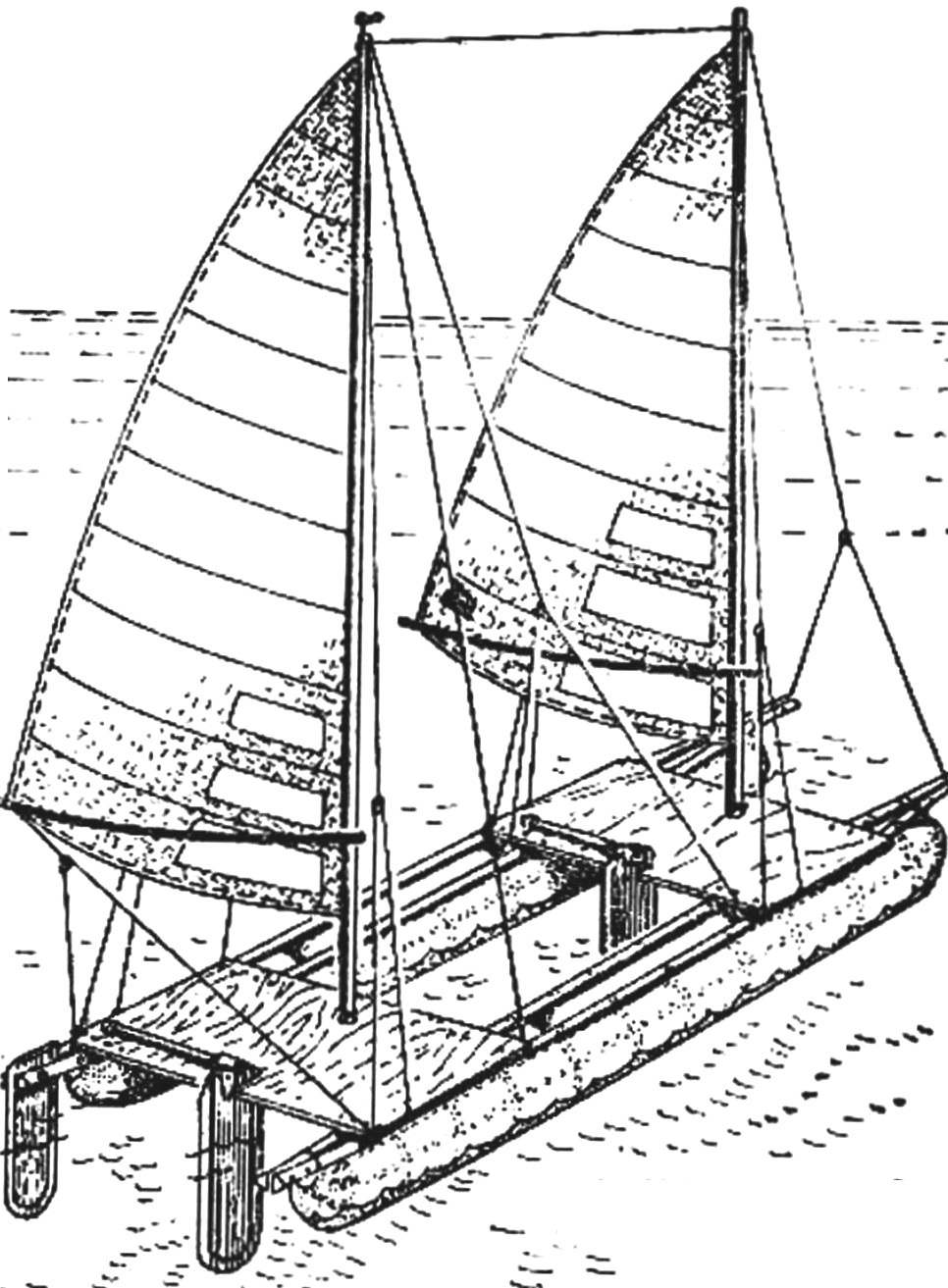 How easy and looks elegant sailboats on the water! Racing "the Flying Dutchman" and "Dragons," recreational tourist "Gonna" and "Nephritis". And here on the coast they lost these attractive qualities: even the rapid windsurfer — the smallest of them turns into a heavy Board, which is difficult to carry, inconvenient to carry, and most importantly, do not know where to store after the summer season. As for their construction, even the easiest surfer to make yourself is not everyone's strength.
And I wanted to make a sailboat that would be devoid of such faults. Suddenly, all the search schemes of the vessel, its design decisions, even the choice of materials ended in the… shop toys "the Kid", where on the counter lay baby inflatable "logs" for swimming. Dimensions: length 1.2 m, Ø 0.25 m and a weight of only 0.8 kg. Then it was just. From the beginning of taking the cloth 800×3700 mm marked out as shown in figure 1, has stitched on the sewing machine around the edges — it has the appropriate "pockets". In two long inserted dural tube Ø35 mm and length of 4 m, and slipped in a short braid. Put cloth in the middle of the three "logs", one after another in a line, wrapped them in cloth, bolts M6 connected between the ends of the pipes and then tightened the braid at the ends. Turned out the float: an inflatable, collapsible, with a shell made from ordinary plastic and frame from stringers-pipe, weighing about 5 kg, and the payload 90.
Two of these float formed body of the surfer and catamaran. Put them together rectangular deck (800X1000 mm) bakelizirovannoj plywood 5 mm thick, and fastened it to the stringers with clamps to the bolt M4. Sailing vooruzenie found normal for windsurfers — with an area of 5 m2. Back on the deck on a section of pipe planted pivoting centerboard size 15x300x800 mm, drank for a narrow groove. Weight of assembled housing accounted for 13 kg. But later I reduced it by 2-3 kg due to the replacement of bakelite plywood for aviation, 10 mm thick.