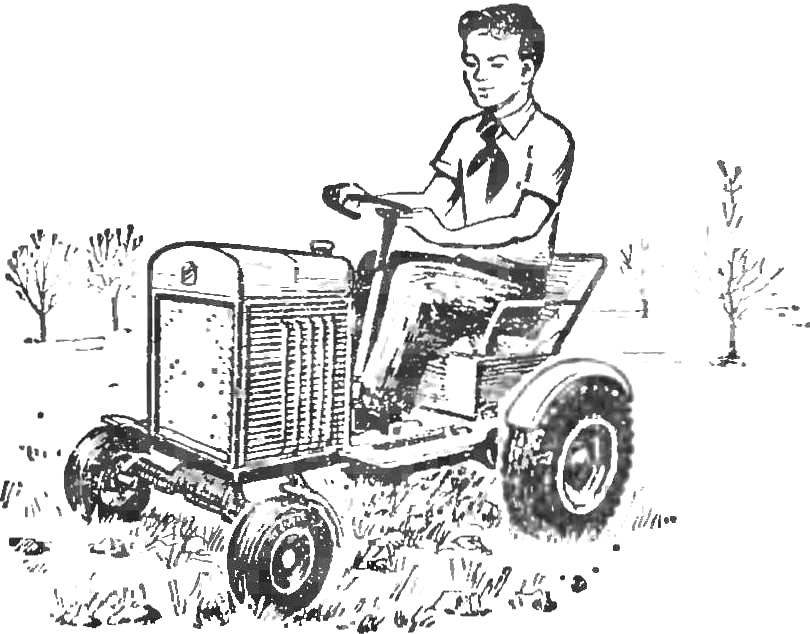 Young inventors from the village of Enem, Krasnodar territory familiar to readers of our pages have already been published diagrams and descriptions of the designs, created with their hands. You guys have a slogan that they came up with this and follow it: "School piticescu — decent tools!" His words rural students confirm the business — not so long ago, they built a tractor, adapted to the conditions of the school sites. Its design tells the glee club Director VOIR N. M. OBREJA.
The authors trigger school eighth grader Alex chermit and Jura Ukhanov, getting started, reasoned: "a Large tractor is nowhere to turn on a small school site, especially on the allotment. So, you need a tractor". The machine was simple, reliable and can work with even younger students. For endurance and greater power in a smaller footprint tractor called "Chills".
Its dimensions are reducible to the scheme, the weight of "Murasaki" 86 kg. used In tractor /motor, gear chain, two wheels and some details of the management bodies of a cargo scooter "Tula 200". The front wheels from the map, the seat is from a decommissioned machine. On the shaft of the motor, a single-pole magneto. In order that the tractor can work at lower speeds and had great traction, the designers have provided two homemade lowering (1:4) side gears. Speed "Murasaki" from 3 to 20 km/h. the Frame is made of 40X40MM area, tank made from mm thick steel.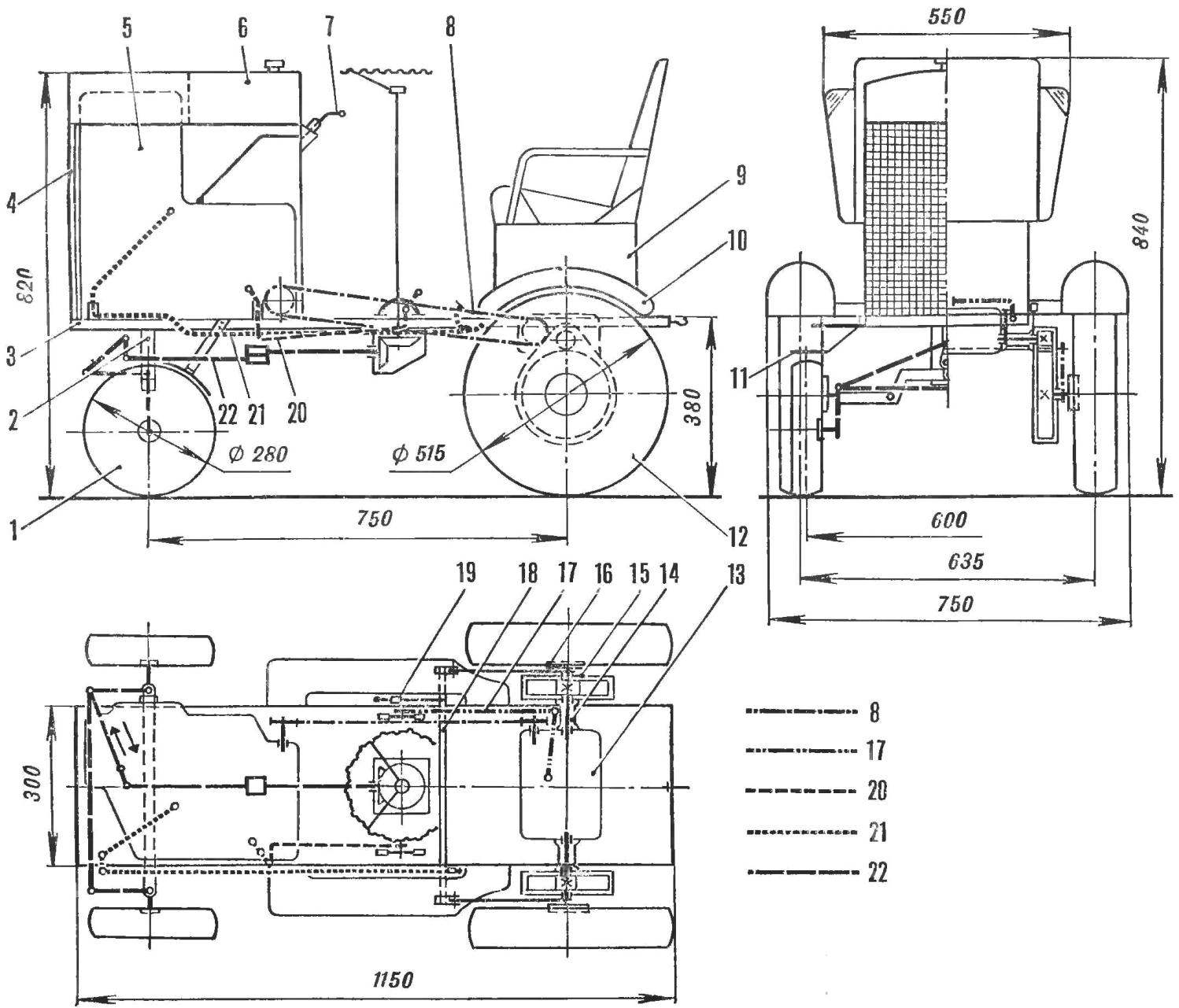 The layout and the kinematic scheme of the tractor "Creeps":
1 — front, 2 — front axle, 3 — frame, 4 — the front wall of the hood, 5 — motor, 6 — tank, 7 — throttle, 8 — gear, 9 — seat 10 — rear fender, 11 — stand, 12 — rear wheels, 13 — gear, 14 — stocking of the rear axle, 15 — final drives, 16 — brake drum, 17—; 18 — shaft brake 19 — brake pedal 20 — pull switching speeds, 21 — pull clutch, 22 — steering system.
With a tractor can carry loads up to 300 kg, to produce a shallow (15 cm) ploughing, cultivation, sowing and other agricultural work.
Recommend to read
PIONEER THE CONVOY
Just a few months there at the House of pioneers the village of Elkhotovo in North Ossetia ASSR circle technical design. During this time the guys have created a garden tractor for a...
CAR ON THREE SQUARE METERS
When the car pulled into the yard, someone was disappointed: "Well baby we've got!" And while the car was at the lab club of young motorists, its size seemed quite reasonable, but on the...