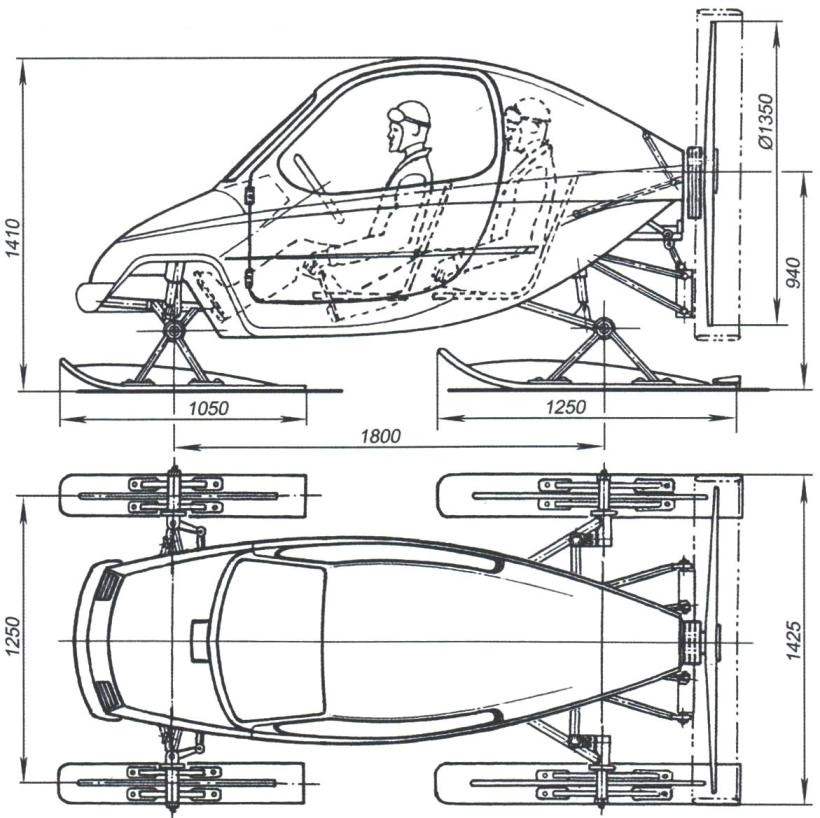 Double snowmobile "SQUALL-3". With the advent of motoparaplane and trikes culture of designing power plants with propellers significantly increased, and today Amateur designers create rotor setup with decent traction engines using relatively small power. Accordingly, began to appear more frequently and wingless versions of these vehicles – hovercraft, snowmobile and aerolizer.
Today we acquaint readers with the design of double chetyrehlistnyj snowmobiles "Squall-3" with the engine power 22 HP
Snowmobile "Squall-3" – double chetyrehrazovoe vehicle with aerodynamic propulsion. Its basis is space frame of thin wall steel pipes with a diameter of 30 mm and 40 mm. it has a double single door (left door) closed body mixed design with a light frame of steel pipes of small diameter, with plywood stringers and frames and foam filler. Joints of the elements of the frame reinforced steel gussets thickness of 2.5 mm.
Rama was going on a simple staple consisting of a mounted on a level floor wooden trestles, on which were fixed the spars. The connection of elements is done using carbon-dioxide arc welding.
Snowmobile front suspension-wishbones with prinovozemelsky shock absorbers of the motorcycle "Ural"; rear – longitudinally swinging an arc with the same dampers.