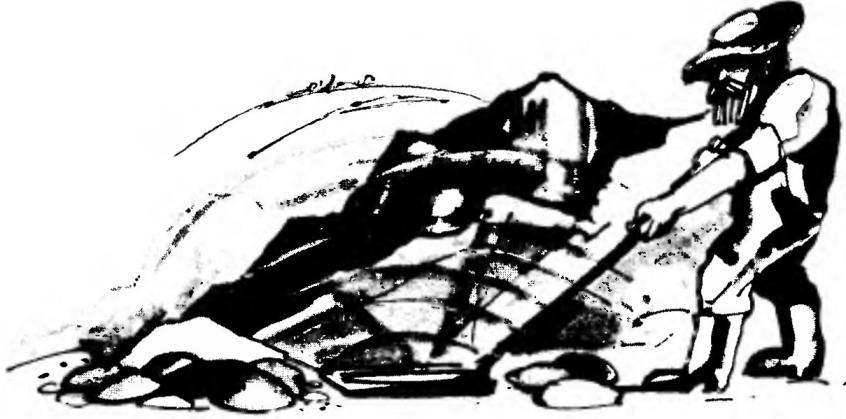 I have developed a detector has not yet been applied in peacekeeping operations to identify and neutralize minefields, no large scale geological or archaeological surveys. Not intended for professionals, and enthusiasts, whose desire to "look underground" is able to meet the design parameters listed in the table, it is an improved version of "metal detector on the beat".
The sensitivity of the device is improved by beneficial use (clear) the dependence of the length of the probe pulse from the intensity themselves parcels with the introduction of the search oscillator automatic frequency control (AFC). Moreover, additional measures for voltage stabilization and temperature compensation of electronic components is not required.
As predicted by the skeptics "irreconcilable differences" (say, changing the search frequency oscillating circuit in contact with metal in the work zone are incompatible with normal functioning of the aft) has allowed the practice itself. It turned out that when moving the sensor over the investigated surface at a rate of 0.5 — 1 m/s diagram of the device is not in conflict with the frequency detectors having considerable inertia (large time constant).
Already from the analysis of the block diagram to produce such a device is obviously more complicated than any of the previous less sensitive counterparts, including metal detectors, published in No. 8'4 85 and'96 of the journal "modelist-Konstruktor". After all, my proposed design, in addition to the standard set of exemplary quartz (1) and measurement (2) generators, external inductors I. (search frame-sensor), mixer (3) and the sound of the Registrar VA (phone capsule) — there is new, substantially improve the operational characteristics of the device. This integrator (4), generating a sawtooth signal with an amplitude proportional to the control frequency of the beating, and a shaper of the write pulse (5), which together with the key (6) and source follower VТ represent an analog storage device, retaining the peak voltage of the integrator.