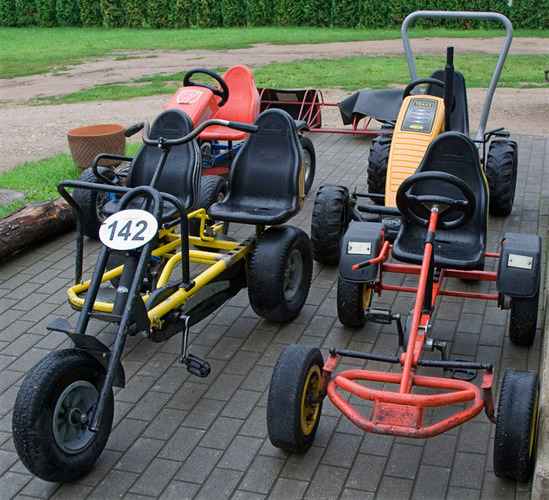 A few years ago for her sons made a small recumbent (and judging by the size or design — it would be more accurate to call it melakarta). Children machine like, and they, along with the neighborhood kids for hours chased her down the quiet streets.
For a sample, took the simple design bezprovodnogo mini-car, the publication of which was in the journal "modelist-Konstruktor" No. 3 for 1977. That year, studying in the third grade, I convinced dad to draw me a subscription to the journal, a binder which in the following years I not only preserve, but still find in them much useful.
Now the sons of this car has grown, but the youngest often takes out her into the street, where among kids is a lot of wanting to ride in it. And he still does not refuse myself the pleasure pedal and the steering wheel a Cycling card.
Frame of the velomobile is mostly welded of steel thin-walled tubes of various diameters, taken from the frames used bikes. And only the axis of the rear wheels Yes, front axle beam made of water (with thicker walls) half-inch pipes.
The front and rear of the traverse frame are both the bumpers, so they, like spars, made of pipes of larger diameter than the rest of the frame. The gusset Travers spars are reinforced with gussets made of steel 2 mm sheet.

Velokart "Kid":
1 — frame;
2 — front wheel (leading from a three-wheeled child's Bicycle, 2 PCs.);
3 — spare wheel (from a child's Bicycle);
4 — strut and mounting bracket -spare wheel (Bicycle tube and steel sheet s2);
5 — the hood (aluminum, sheet s1);
6 — rearview mirror (motorcycle);
7 — brace the steering shaft;
8 — steering shaft;
9 — steering wheel;
10 — foot drive (from a child's Bicycle);
11 — intermediate shaft with big and small stars;
12 — brake arm;
13 — seat (frame — car "Colchis", plywood, foam, leather);
14 headrest;
15 —handrail (trumpet 020); 1
16 — unit and the wire drive of brakes;
17 — brake lever with pad;
18 — cat's eye (4 PCs, automotive, front — white, rear — red);
19—rear wheel (from a child's Bicycle "Space", 2);
20 the mechanism of a tension of the chain the 2nd stage;
21 —drive chains (from children's bikes).
---
Pedal drive with sprocket, bottom bracket and frame part borrowed from the old children's tricycle "Space". This node is welded to the median longitudinal insert of the frame.