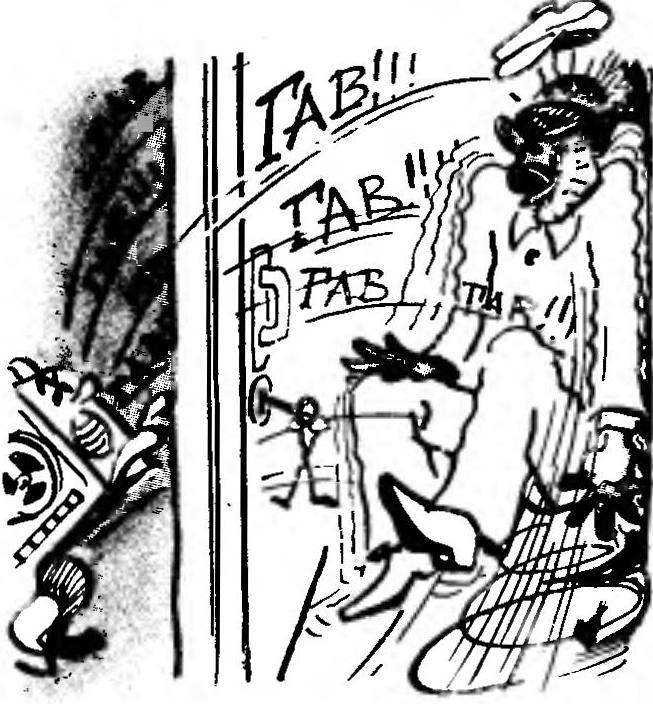 In these troubled and difficult time when the crime situation every year more complicated, the important importance of watchdog and signaling device that protects property from encroachment by criminal elements. Among these developments, I have designed instrument, to collect which can anyone, even a novice radio Amateur. Using as actuator recorder of any type, on a looped tape which recorded tigrama barking dog, it simulates presence in the building watchdog. And the electronics triggering happens at the moment of approach or touch of a human hand to the castle.
The proposed device (m x m) consists of three relays: capacitive, assembled on the transistors VT1, VT2 and VТЗ, time relay (VТ4, VТ5) and Executive (VТ6).
When approaching hand or touch the lock decreases the generation frequency of the transistor VTI. Accordingly decreases and the current flowing through this transistor. On VT2 and VT3 built a DC amplifier that is connected to the variable resistor R5. Decreasing the current, the transistor VT2 is closed, a VT3 open. Relay K1, breaking its contact To 1.1. When this is interrupted the supply circuit of the locking voltage to the base of transistor VT6. The last opening, triggers a relay KZ. And it is, first, a contact K3.I opens the circuit to charge the capacitor C6 and moves to samaritana through K3-I K2.1, R15. Second, another contact (K3.2) relay connects to the mains to any Executive mechanism (a tape recorder, siren, electrosonic, etc.).