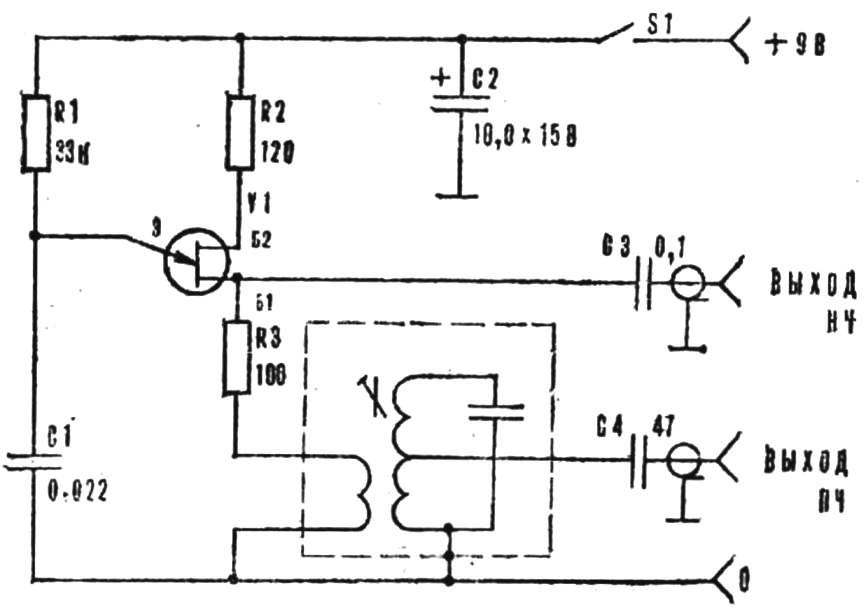 To build and repair electronic equipment needs generators low and high frequencies. A simple device, a scheme which offers the British magazine "Radio Electronics Constructor", replace them at first. The single junction transistor V1 performs the functions of the relaxer. The value of resistor R1 and capacitor C1 determine the value of the audio frequency (about 1 kHz). It change the selection of capacitor C1. Using an isolating capacitor C3 of the low-frequency signal is supplied to the output socket. And since it has a sawtooth form, that contains a large number of higher harmonics.
To highlight intermediate frequency 460-470 kHz in the circuit of the base 1 includes a model transformer from NCH transistor radio. The desired frequency, select, Tarrytown core.
In the generator applied to the single junction transistor КТ117.
Recommend to read
WITHOUT ALTERATION OF THE POWER SUPPLY
In Amateur radio practice, there are situations when 9-volt DC source you need to obtain 12, and then a higher output voltage. Bail in such cases can I designed a compact transformerless...
FROM "SPIDOLY" LAB!
Instruments based on the radio. Technical progress is relentless it forces us to buy all new electronic devices, and old, but usable receivers, tape recorders, record players and tape...