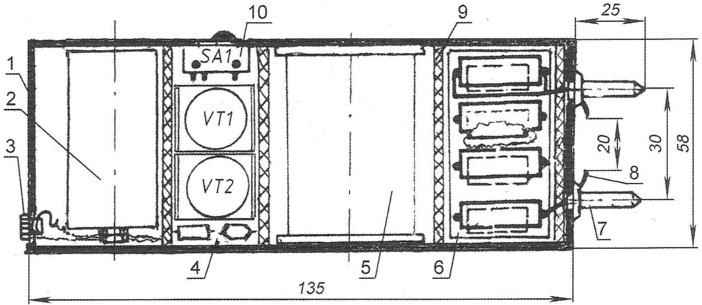 Among the means of self-defense e-treskovye device (ASH) – not in last place, especially the strength of psychological impact on criminals. However, the costs are considerable, which encourages radio Amateurs to create homemade analogues (detailed material about it see, for example, in No. 5,'99 the magazine "modelist-Konstruktor".
Without pretending to sverhordinarnogo and Superviso ideas, suggest their own development, to repeat which is able to anyone who at least once in their life has dealt with the winding of the transformer and installation of simple devices like crystal radio with an amplifier on one or two transistors.
The basis of my proposed device is constituted (Fig. 1A) transistor oscillator that converts the DC voltage from the power type power supply galvanic battery "Krona" ("Emery", 6РLF22) or battery "Nika" in high variable, with the model multiplier, I), construction and operation of which are thoroughly described in No. 5 of the journal "modelist-Konstruktor" for 1997. A very important element of ASH is a self-made transformer (Fig. 15 and Fig. 2). A magnetic core is a ferrite core with diameter 8 and a length of 50 mm. This core can be split off, for example, the magnetic antenna of the radio, pre-nedelev source on a circumference edge of the abrasive stone. But the transformer works if the ferrite from TV TVs. However, in this case, you will have from the base of the U-shaped magnetic wire to produce a cylindrical rod of the desired size.
Tube-base frame for placement of the transformer winding serves as a 50-mm section of the plastic housing from its exhaust felt-tip pen, the inner diameter of which corresponds to the above-mentioned ferrite rod. Cheeks size 40×40 mm cut from a 3 mm sheet of vinyl plastic or plexiglass. With a tube-cut case of the marker they firmly connect, pre-lubricated seats dichloroethane.