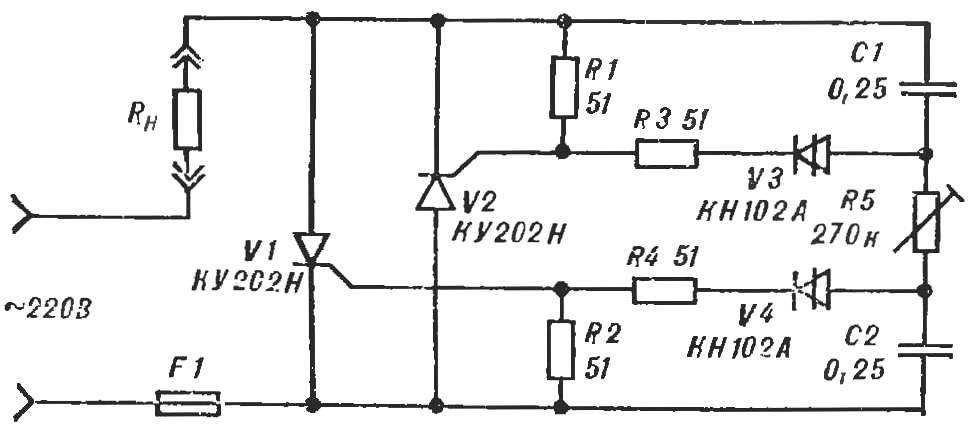 Smoothly change the brightness of room lighting or hall comfortable with the thyristor voltage regulator (see Fig.). The scheme allows you to adjust the load voltage ranging from 220 V to 0, 25 W to 1 kW. But if the thyristors to supply the radiators, then it will increase to 1.5 kW. The main elements of the regulator, the thyristors V1, V2, included a counter each other and parallel to the load. They alternately pass current in one or in the other direction.
The voltage at the load is adjusted with the variable resistor R5, which together with the capacitors C1, C2 forms a phase-shifting chain. The thyristors are controlled by the pulses generated by the discs V3, V4.
The peculiarity of this scheme is that it uses both half cycle AC to the load is supplied complete, not half, as usual, power.
Recommend to read
THYRISTOR VOLTAGE REGULATOR
My thyristor voltage regulator (THREE) is easy in manufacture and adjustment, linearity regulation and high power output — 200 watts without heatsink and 1000 watt radiator cooling area...
THE SIMPLEST SENSOR
In today's electronic equipment is widely used touch control. Option sensor available for beginners repetition hams, offers Czech magazine "Amaterske Radio". If you touch the plate,...