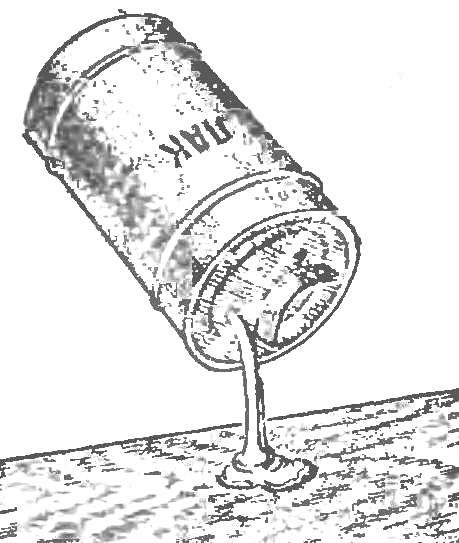 Varnishes, paints, enamels often Packed in tin cans with a wide lid-stopper. But no matter how tight it fit, the tightness over time is broken: part of the contents when pouring over the edge dries up on the edge and prevents tight closing of the jar. However, when the expenditure of material in small portions is better to pour it not so, and through the drilled a hole in the lid Ø 6 — 10 mm (depending on viscosity). The air hole Ø 3 mm do the opposite of the cover. "Plug" these holes will serve as a piece of adhesive tape or thick tape.
Recommend to read
INSULATOR FROM THE JAR
Tins of film can be used if necessary as insulators or junction boxes to protect the connections from two to four and even six electric wires. To do this, the lid of the jar need to do...
THE MIXER IS NOT FOR THE KITCHEN
The need to effectively mix anything occurs not only in cooking, but, for example, in the preparation of two-component parquet lacquer, complex color paint, or epoxy glue. Thus it is...