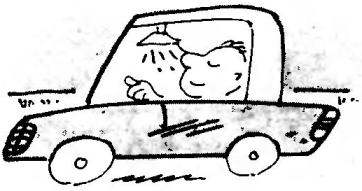 One of the inconveniences in the design of many cars is that the interior light goes out immediately when closing the doors. There are, however, a special device to delay the power light on 5-15 that the driver had time to explore the dashboard controls and to insert the ignition key. But these developments are usually complex and expensive. And reliability often leaves much to be desired.
Recommend to equip the car home, a circuit diagram is shown in illustrations, and problems, as they say, no.
When the doors are closed here contacts button ЅА1 — ЅА4 open. And because the interior lamp of car D1.1 is not lit. The capacitors C1 and C2 are charged via the circuit VD1 VD1 R3 and R2, respectively. At pin 3 of the chip DD1 has voltage logical "O", and the transistors (VT1, VT2) are in the closed state.