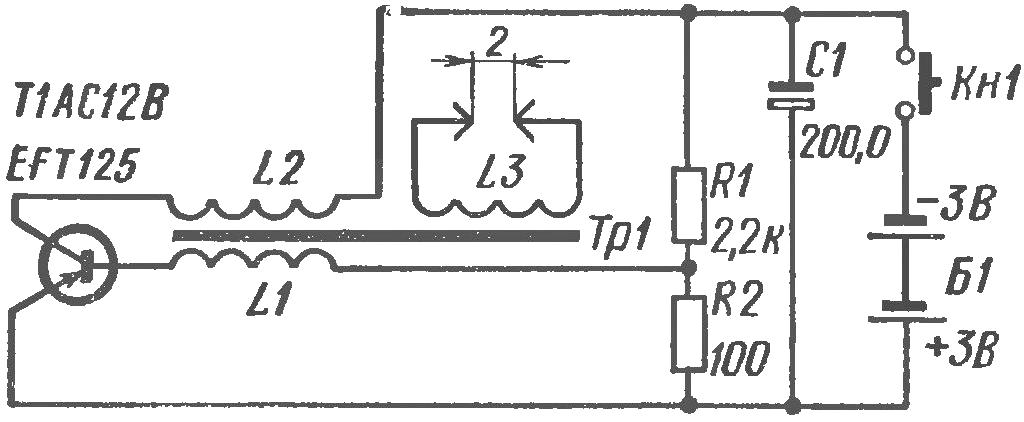 A lighter, a diagram is shown in the drawing, is intended for gas stoves. It is reliable, comfortable and safe. The device is a transistor blocking oscillator, powered by dry batteries with a voltage of SV.
On the output winding of the blocking-transformer develops a voltage up to 10,000 V. This is enough to cause a spark length of 1-2 mm. Such a spark easily ignites the gas burner.
TP1 is assembled on the core W-10, set of 60 mm. 1.1 Winding is 5 turns of wire sew or PEL 0,5; L2 is 10 turns of PEL or PEV 0,8; LЗ— 12,000 turns of PEV 0,05.
The transistor T1 may be of the type П217.
Recommend to read
MANEGE BABY ON THE WALL…
As soon as the baby learned to crawl, they are seized with a desire to explore the surrounding area, where all sorts of interesting things. Here, parents often helps a well — known...
MODELIST-KONSTRUKTOR 2004-07
IN THE ROOM: Public design office: Vladimir Kudrin. From land - water (2). Small-scale mechanization: V. Martynov. All of the clamshell (6). All cottages: E. Evsikov. The frame......