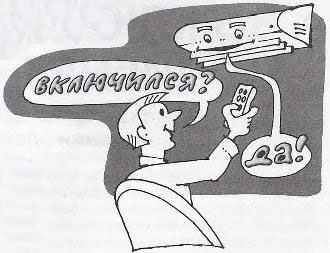 Simple circuits sound LEDs turn on electronic devices
In Amateur practice, it is frequently necessary to announce the inclusion of any homemade or industrially produced household electronic appliance, equipment or device — which is unusual, pleasant to the ear (if picked up a soft tone audible signal). This is especially true when the appliances operated with a remote control — an acknowledgement signal confirms that the received command. For example, when the operation control of air conditioning — when it is turned on or the mode is changed as a response to user, sound short and melodious sound signal duration of 1 — 2 seconds.
The sound is a kind of status indicator that is different from the light first of all, the fact that it can be controlled remotely. As a rule, electronic devices (for better control of their condition) used an integrated display and sound and light.
Assembled on the proposed scheme, the device is successfully applied in everyday life to control the light in the apartment or the room, adding to the usual and familiar interior of a certain "sound flavor". And it is enough even for a skinny wallet. So, when the light is heard a short soft beep. You can apply the device in the toilet for sound information on the employment of this room.
The host audio is connected directly parallel, but to the power contacts of the device, the inclusion of which it aims to control.
A prototype of the proposed device serve as long been used in imported (and more recently in domestic) home appliances electronic devices audible alarm.
In the basis of such electronic unit is a popular timer КР1006ВИ1. Thanks to the use of a buzzer to the circuit, there is no need to enter any pulse generators or amplifiers.