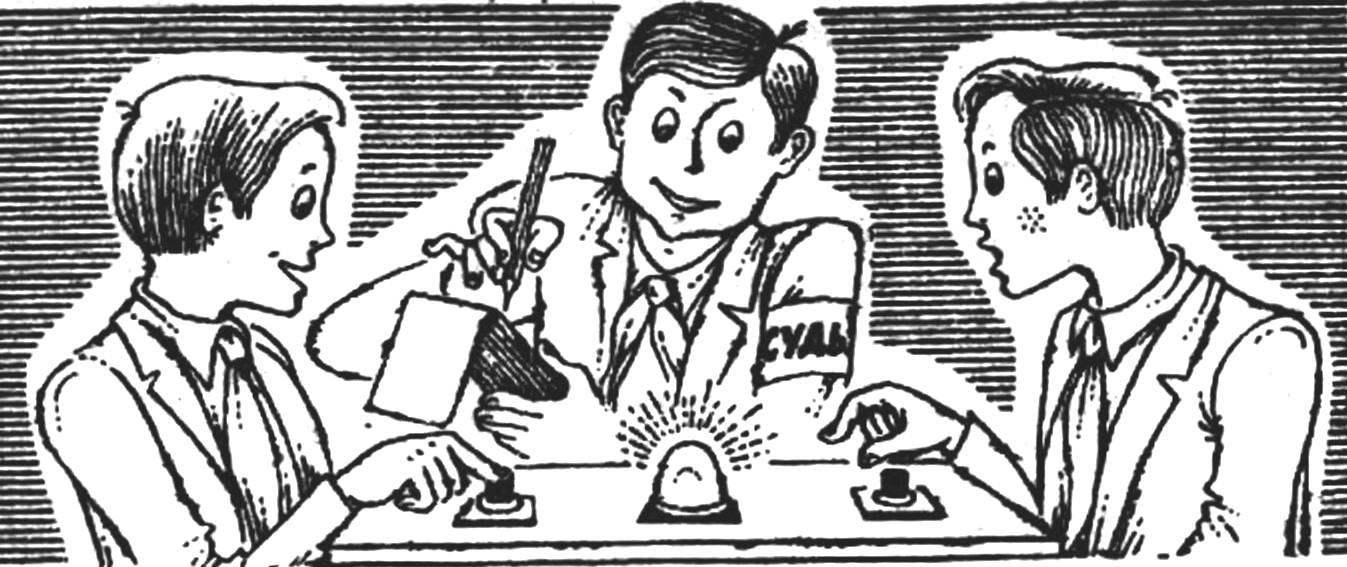 Our magazine has already told about this exciting game, made on the electromagnetic relay (see "M-K" №1, 1976). And today hams instead of contact devices are widely used in their structures with modern elements as transistors, thyristors, LEDs, integrated circuits. New versions of the game "Who is faster?" with the use of such devices and readers.
I — transistors. The easiest game device to run on silicon transistors and small lamps 3,5ВХ0,26A flashlight (Fig. 1). It works like that. Suppose that S1 is pressed. Then to the base of transistor V1 goes positive battery voltage G1. Current will pass through the bulb H2, the resistor R2, the closed switch S1, and finally get to the base V1. The transistor opens, the lamp H1 will light up and will glow for as long as button is pressed S1. All attempts to ignite at this time the lamp H2 with the button S2 inconclusive. The fact that the silicon transistor is opened when the voltage across its base-emitter transition is greater than 0.6 V. since in the saturation mode the voltage drop at V1 is less than 0.3—0.4 V, this value is not enough for opening the transistor V2. That is why the second lamp to light impossible.
If the first button is pressed S2, the lamp will light H2, and then it is impossible to light a bulb of H1. In other words, illuminates the lamp, the button of which is pressed first.