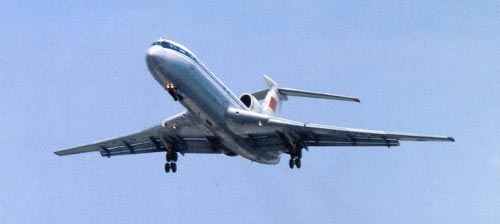 Scale model 1:100.
Tu-154 (NATO reporting: Careless — "Carefree," in the slang of Russian pilots – "Tupolev" or "Aurora" (from Avrora Cruiser), for three pipes – nozzles) — trimotored passenger aircraft for medium-haul airlines, developed in the 1960s in the USSR in the Tupolev design Bureau to replace the Tu-104.
The first flight was made on 3 October 1968. Mass-produced since 1968 to 1998, just released 935 aircraft. The rate of release sometimes reached five cars in a month. From 1998 to 2011 was carried out small-scale production of the Tu-154 Samara plant "Aviakor". The final cessation of production is planned in 2020 (in production are two cars).
The most mass Soviet passenger jet, which until the early 21st century remained one of the major planes on routes of average range in Russia. The shortest nonstop route, which uses Tu-154, Baku — Aktau (388 km), and the longest — Moscow — Neryungri (5200 km).
The Tu-154 is designed for the carriage of passengers, baggage and cargo for airlines short and medium range. The aircraft is designed to transport up to 18.0 tons, payload. The greatest number of seats — 152.
The crew consists of two pilots, a flight engineer and four-six flight attendants. Accommodate, if necessary, additional members of the crew — the Navigator and the pilot.
The aircraft is a cantilever all-metal monoplane with low-swept wing and a swept T-tail, equipped with three turbofan engines NK-8-2 (NK-8-2U) and tricycle landing gear with the front foot.