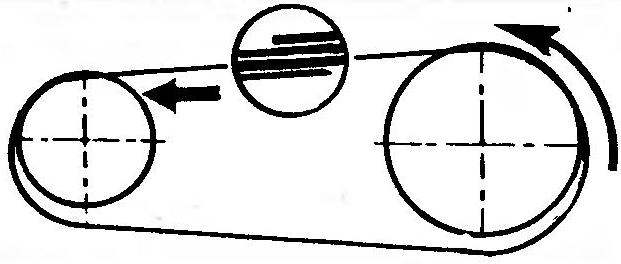 Broken drive belt for electric planer can be replaced with electrical tape on a fabric basis, tightly winding it on the pulleys of the motor and the drum with knives, as shown in the figure. The free ends of the tape must be secured with a few stitches of thread. Operation for several months showed that the belt works better than the factory and does not impair the technical characteristics of the plane.
V. SARANDAEV, D o n e C
Recommend to read
WHEN "CONVENIENCE" IN THE YARD
Any individual developer, since the development of the site or the erection of a house on it, just have to first build at least a small and simple toilet. Although I would note that...
PORSCHE 911 CARRERA CABRIOLET
The legendary PORSCHE 911 was built in 1964 and is still producing cars with "911" is the Foundation program of the company Porsche.   The first version of this car was equipped...