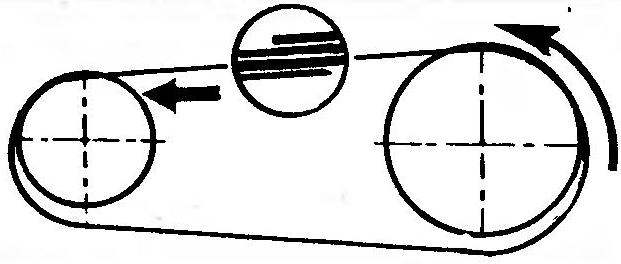 Broken drive belt for electric planer can be replaced with electrical tape on a fabric basis, tightly winding it on the pulleys of the motor and the drum with knives, as shown in the figure. The free ends of the tape must be secured with a few stitches of thread. Operation for several months showed that the belt works better than the factory and does not impair the technical characteristics of the plane.
V. SARANDAEV, D o n e C
Recommend to read
SAIL-MACHINE
For millennia sail faithfully serve the people, helping them overcome the seas and oceans. But under the onslaught of steam and electricity, he had to concede the monopoly of the single...
FLOWER GARDEN ON WHEELS
In addition to the traditional flower beds in the suburban areas more and more popular are beginning to use mobile flower beds, allowing for the need to move or transfer them to another...