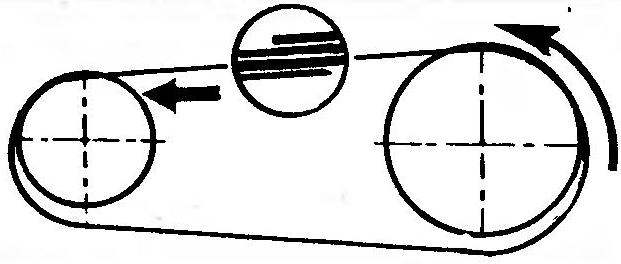 Broken drive belt for electric planer can be replaced with electrical tape on a fabric basis, tightly winding it on the pulleys of the motor and the drum with knives, as shown in the figure. The free ends of the tape must be secured with a few stitches of thread. Operation for several months showed that the belt works better than the factory and does not impair the technical characteristics of the plane.
V. SARANDAEV, D o n e C
Recommend to read
THE KID FROM BIELSKO BIAŁA
The Polish automotive industry there is quite a few years. Serial production of cars started in our country two decades ago. Now we have produced machines of various types, designed for...
DIEHARD CHESS…
I love to play chess, and I imagine it is a shame, if the Board in the most interesting moment goes — well, for example, when you carry it from one table from another. I have had several...