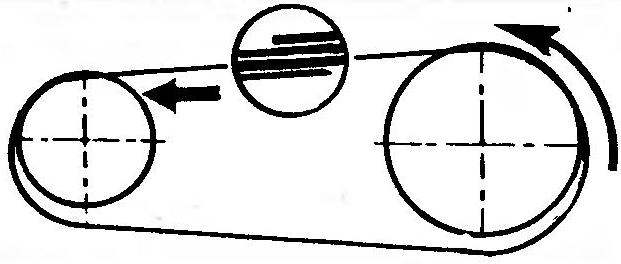 Broken drive belt for electric planer can be replaced with electrical tape on a fabric basis, tightly winding it on the pulleys of the motor and the drum with knives, as shown in the figure. The free ends of the tape must be secured with a few stitches of thread. Operation for several months showed that the belt works better than the factory and does not impair the technical characteristics of the plane.
V. SARANDAEV, D o n e C
Recommend to read
INSTEAD OF DUCT TAPE
I want to share with the readers of "M-K" a small trick that often helps me when it is urgent for insulating wires and electrical tape no. Done in this case so I cut a strip from the...
IS HORIZONTALLY
To withstand the strictly perpendicular direction when drilling holes in the wall or to any vertical surface— just attach to a drill with tape or duct tape carpenter's level. His shifty...