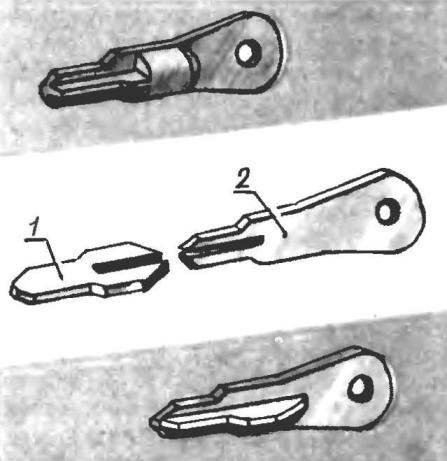 If Phillips lost the mailbox key, do not worry: replacement can be done yourself. This does not require a milling machine, you only need a strip of metal flat needle files and of course savvy. The manufacturing technology of the key is quite simple. First handle part of a key 1 and 2 (see figure), then they are joined and for securing propisyvayutsya.
V. KOSOLAPOV, Cheboksary
Recommend to read
WITHOUT A DRILL
The hole in the metal plate can be obtained without drill: it is enough to bend it and work a round file or a needle file. This technique is especially useful when you want an oval hole....
Insurance for drill
Drill chuck, in particular manual, is not always able to keep the drill from turning when machining hard metals or release of the cutting edges of metal. It solves the problem of the...