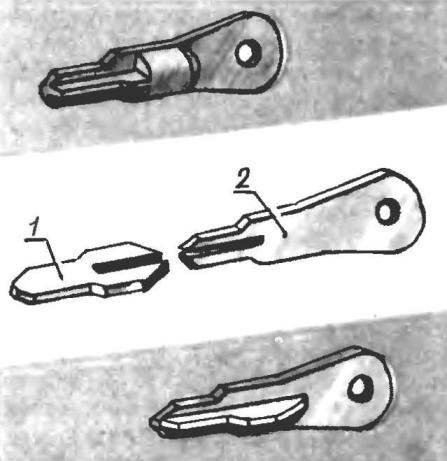 If Phillips lost the mailbox key, do not worry: replacement can be done yourself. This does not require a milling machine, you only need a strip of metal flat needle files and of course savvy. The manufacturing technology of the key is quite simple. First handle part of a key 1 and 2 (see figure), then they are joined and for securing propisyvayutsya.
V. KOSOLAPOV, Cheboksary
Recommend to read
MATT? EASY
To get out of the ordinary frosted glass, have it for a long time to handle with sandpaper or other abrasive. But there are less time consuming and easier way to achieve the same result....
CONCRETE — JIGSAW
Well-known model electric fibroelastic inherent drawbacks: on the table crawl, hands from the constant tension when working with the machine buzzing... to cut delicate items, should be...