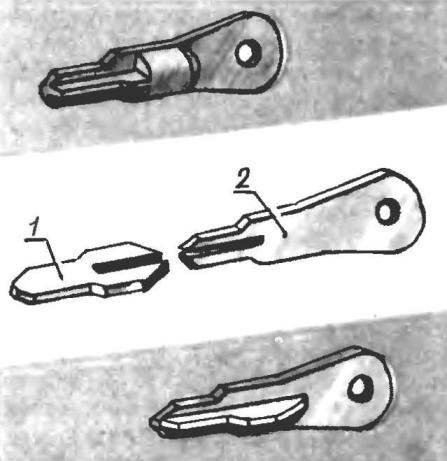 If Phillips lost the mailbox key, do not worry: replacement can be done yourself. This does not require a milling machine, you only need a strip of metal flat needle files and of course savvy. The manufacturing technology of the key is quite simple. First handle part of a key 1 and 2 (see figure), then they are joined and for securing propisyvayutsya.
V. KOSOLAPOV, Cheboksary
Recommend to read
BANK — IN THE CASE
In the Treasury of homemade, made from scrap materials made of NEMA some tips for using the empty cans. Maybe somebody can use this option is the simplest soap dish or wall offices for...
MODEL OF A PLASMA ENGINE
The idea of the conquest of space is today the minds of people of all ages. Couldn't stay away from space themes and Junior staff of the laboratories of experiment of Club of young...