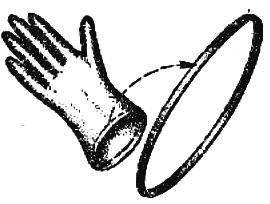 An open belt is rubber ring at the tape recorder or a player — it happens not so often, but because surprised. However, a good housewife can always find an old rubber glove. Select the one that is thicker, and cut with scissors right ring: timed belts ready.
Recommend to read
ELECTRONIC DISCONNECT SWITCH
Many motorists in a hurry to install in your car the so-called device to turn off the "masses" with which, without removing the terminals, the battery easily detaches from the electrical...
THE FOG CREATES A SPEED
The boat standing at the dock, nothing attracted attention. Except that instead of a outboard motor on it was a propulsion system with a propeller of relatively small diameter at the...