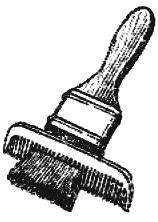 It is known that the paint brush can be long if every time you are finished, wash it thoroughly in solvent and warm water with soap or washing powder. But if it then still be a comb-toothed comb, brush will be like new.
Recommend to read
THE "HOOK" OF THE PAINTER
You paint the fence for the first time or renews oblasti — in any case, the work is time-consuming in itself, but still every time you bend with a brush or roller to the container of...
TRAP FOR PAINT
When painting the ceiling, cornices, etc. paint with a paint brush sometimes drains on hand. This will help avoid simple cropped funnel from a plastic bottle, put on the brush.