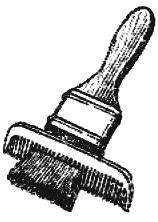 It is known that the paint brush can be long if every time you are finished, wash it thoroughly in solvent and warm water with soap or washing powder. But if it then still be a comb-toothed comb, brush will be like new.
Recommend to read
TO CHARGE OR CHANGE?
The device was created to check the capacity of Nickel-cadmium and Nickel-metal hydride batteries, but they can check for any small capacity batteries and dry cells. The device is...
NEW EASTERN WAY
After her victorious Russo-Japanese war, Japan immediately moved to a new class of naval powers, occupying one of leading places. After the commissioning of the trophies of the Russian...