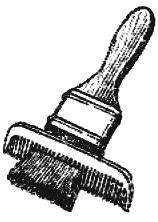 It is known that the paint brush can be long if every time you are finished, wash it thoroughly in solvent and warm water with soap or washing powder. But if it then still be a comb-toothed comb, brush will be like new.
Recommend to read
INSTEAD OF STRINGS…
The traditional method of cutting Styrofoam with a heated nichrome filament is not always easy. The size of the holder of the strings, limit the size of the workpiece. Offer (in addition...
EXTENDER-SURVIVOR
Folding wire extension can peretiraetsya on the bends. To avoid this, you should wrap several layers of insulating PVC tape, slide a section of PVC conduit or rubber hose of suitable...