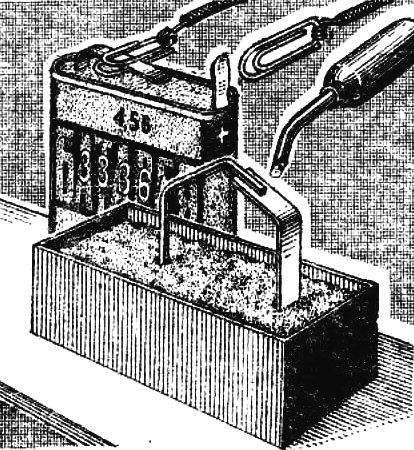 When conducting home experiments with the batteries from the flashlight, the repair of toys and models with motors in adolescents is frequently necessary to connect conductors to the petals and the power flat pins or terminals schematic Yes to quickly and reliably Ko without soldering.
When the hand is not applied in these cases special metal practical solution-the"crocodile", make out an ordinary paper clip.
If you need to solder two pins or two flat tubular parts to hold them in position will help such a simple fixture, like the bathtub or a Bank of sand, which parts can be stuck at any angle and in any position.
Recommend to read
THE SIMPLEST FLASHLIGHT
Yes, it's probably easier to not think. For the manufacture of such "Firefly" will need only a flat battery, the light bulb is 3.5 V and the two rubber rings or a bit of adhesive tape....
ELECTRIC CAR BATTERIES
You can make a simple model of the electric vehicle that will run on batteries. This will require: microelectrochemical PD-12A, flat battery, 4.5 V, two coils of No. 10 without thread,...