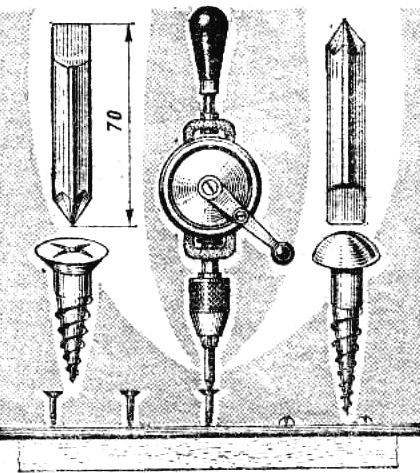 You take up to screw a screw! Of course, the screwdriver: several rotations. Well, if ten screws or more? For ease of use hand drill: it will help to prepare the holes and screws tighten easily and quickly. This needs only to manufacture a cartridge is inserted into the working rod length of about 70 mm. To be able to work with any screw, sharpen one end of the rod under the slot, the other — under the "krestovinu"; get a convenient and versatile tool.
Recommend to read
HELPS BRACE
To tightly connect the screws the two boards, you need to use the brace. From a set of versatile screwdriver select the appropriate tip and insert into the rotation in place of the...
SCREW PLUS BAR…
...make a surface gauge. In the block of hard wood drilled a hole in which is screwed into the screw. Use a screwdriver to set the distance required for the application of risks.   ...