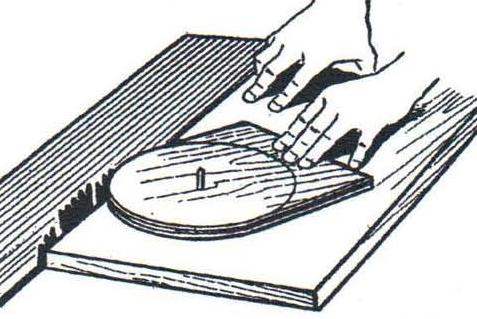 On a circular Pipa can not only dissolve a wooden Board in straight lines, but cut discs of any diameter from sheet material.
For this you need only do a simple device-a plywood plate, which is attached to the axis of the future drive. The axle is made of screw, a screw or even a nail of suitable diameter. How is "milled" disk – it is clear from the figure.
Recommend to read
HIDDEN STUD
It so happens that a nail head or screw head, connecting the two wooden parts, you want to hide, to conceal. Here's one way. Will atsaite chisel a thin layer — literally chips of wood...
SCREW TIGHTLY
In cases when you want to prevent turning of the screw, screwed into a Board or plywood, I use a very simple way. Of stiff wire or a nail, whose diameter corresponds to the width of the...