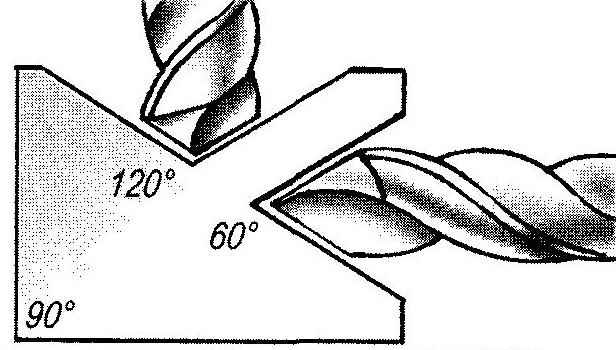 Depending on the processed material from each drill must be properly sharpened. To verify the correct angle will help a specially prepared square plate of copper or aluminium with a thickness of 1 mm.
To become operational protractor enough to cut it cut, as shown in the picture: a large cutout at an angle of 120 degrees, the other half is 60 degrees and the surviving corner of a square is 90.
Recommend to read
DRILL IS THIN AND LONG
To drill the axial bore of small diameter into a long cylindrical part is not so easy even on the machine — drill was almost certainly "will lead". To gain maybe a simple jig made from a...
INSTEAD OF STRINGS…
The traditional method of cutting Styrofoam with a heated nichrome filament is not always easy. The size of the holder of the strings, limit the size of the workpiece. Offer (in addition...