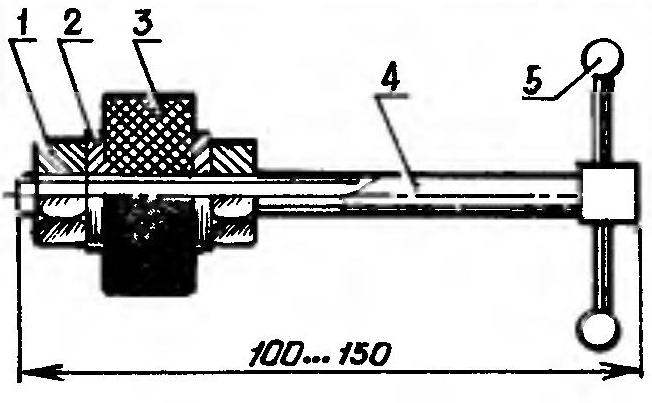 Quickly and securely "to drown out" the water pipe or radiator hose when testing it for leaks by using a simple device. By rotating the handle the rubber grommet sandwiched between two washers, "hear" and tightly cover the hole.
Plug:
1 — nut M12 (2 PCs), 2 — washer (2 EA.), 3 — rubber Bush 4 — M12.5 — knob (handwheel).
NIKOLSKY, g. Tuapse, Krasnodar Krai
Recommend to read
FLEXIBLE CONNECTION
The homebrew is often used segments of rubber hose as a flexible coupling when connecting coaxial shafts, particularly in those cases where the rotation speed is small, and the shafts...
THE CAR IS UNDER PROTECTION OF ELECTRONICS
E-the guard mounted on the car "Lada", emits intermittent alarm signals if someone opens the door, hood or trunk of a car.   How does such a device? The position switch B1 on the...