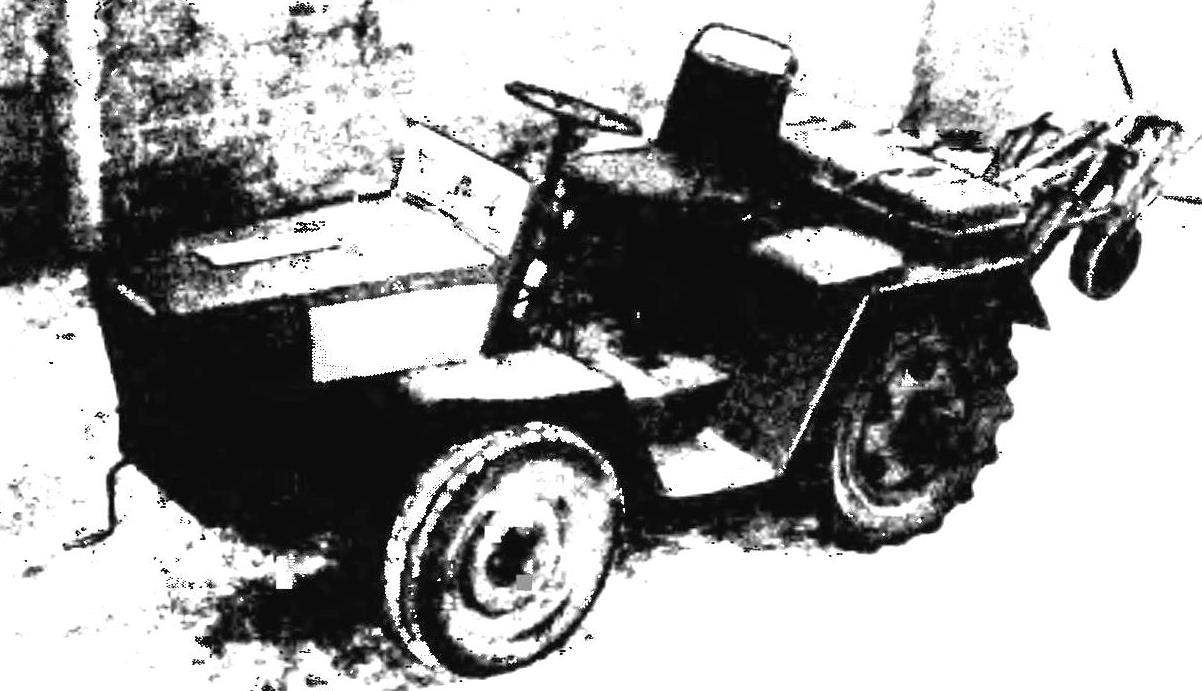 Constructed by the readers of "M-K" mini-tractors, as a rule, are designed to perform agricultural work for General use. They strictly conditioned by the dimensions of the bridge track to change except that a permutation of the elements of the wheel, when the different location of disks and the rim allows to fit the machine to the varying width of the aisle. Interesting technical solution to a longstanding design problem to minimize the risk of damage to plants during the processing of row spacing of tilled crops mini-tractor, V. Chirkov suggested sabotage the village of Lotoshino (Moscow oblast). In his new machinery MT-7 (on the previous and highly acclaimed experts on VDNH USSR, see "M-K" 2/83) track width can easily be changed. As they say, by order! Because the front axle of this mini-tractor is sliding, and the required track width on the rear axle (taken from GAZ-51 with a subsequent shortening of his original technique) is achieved by replacing conventional wheels (right) on a special, fatty hub.
Mini-Kirovets — from serial nodes
To newcomers in creating a homemade small tools themselves do not carry. At least for the reason that many of my projects long ago, "replicated" by other fans to make all their own hands, and the best, such as the compact tractors MT-5 has won awards even the country's main exhibition. But a special thrust to the tillers do not. Especially "industrial". It was too much opened often they have flaws. Broken parts, "burn" belt transmission. And how to recover! On top of that too, in my opinion, light cultivators for tillage for potatoes: stalled. Mowing — too child's play. As, however, and when the transport operations (complete with a tow truck).
I am convinced that the farm needed a more versatile and strong mechanical assistant — mini-tractor. Indifferent to the creation of such machines: the seventh really counts. From published in "M-K" a new development (MT-7) has several large dimensions — it by as much as 650 mm long. It would be possible to cram the entire structure (see illustration) and in the same sizes, if I have a good combined transmission instead of two, series-connected. But alas, the homebrew often ample opportunities in purchasing the right units does not have. Take other natural shrewdness.
I, in particular, managed to compose in such a way that the agility of the new, more powerful than previous designs, the mini-tractor has remained virtually the same as the MT-5. Mainly due to the removal of the engine forward, like the all known "Kirovtsa". Although ultra-high maneuverability of this car when plowing is not so necessary. After all, with a width of 500 mm or more at the end of each run and not to turn around, and… feeding back. Moreover, the speed of the new mini-tractor when plowing in 2 times more than the MT-5.