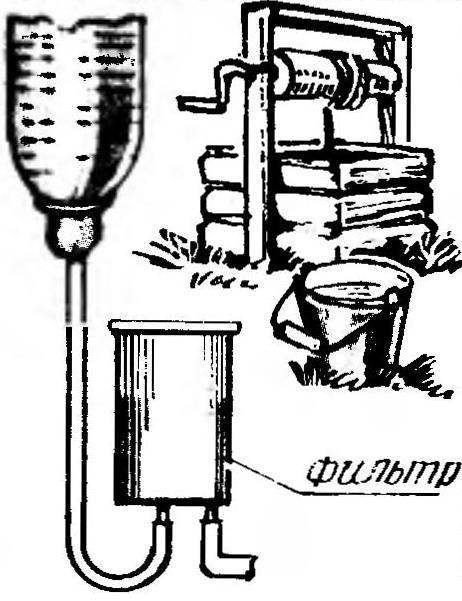 Most water filters designed for connection to the tap water. And what about those who have "bucket-wire", who carry water from a well? In these times and so often you have to clean. It is for this purpose I had to fit the filter "spring". The tip that fits over on the faucet, I took off the hose and a nipple connected to the neck of a plastic two-liter bottles of imported drink. The bottle turned and cut off the bottom, hung a little higher on the side wall of the filter. Now, when necessary, pour in a bottle of water from the bucket and it gravity flows through the filter. In the end, a double benefit: water and separated, and purified.
R. MIRZAYANOV, Kambarka, Udmurtia
Recommend to read
SUCCESSORS "THIRTY"
By the spring of 1943 in the fighting at the front emerged a qualitative leap in improving the combat capability of the German armored vehicles. There are new tanks Pz.Kpfw.VI "Tiger"...
VELOSIPE
So your bike was more noticeable in traffic and stood in the Parking lot, put on his frame, several white streaks of oil or nitro. This "Zebra" is evident, wherever the bike, preventing,...