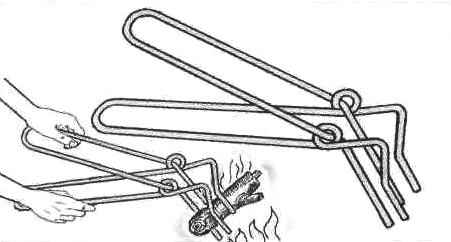 Fearlessly take something that's hot or not for fear of dirty hands on painted or oil — in many cases, will be able to help out here is an unusual "tongs", which is easy to manufacture from thick wire, two segments which are curved and connected as shown in the figure.
To improve fire holo-wands at the BBQ, grab the Sizzling potatoes from the fire, get soaked with paint or grease swab — in all such cases, the "tongs" will be indispensable.
Recommend to read
THE WIRING IS INVISIBLE
Typically in any room can be hung not more than one ceiling lamp. And architects and builders for some reason believe that the ceiling is appropriate only one chandelier, and for local...
TUBE MADE OF… WIRE?
Yes, this is possible, especially if you want to have it repeatedly or intricately curved. To obtain it really is possible to resort to a copper wire that is tightly the circumferential...