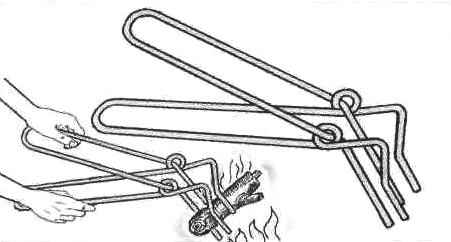 Fearlessly take something that's hot or not for fear of dirty hands on painted or oil — in many cases, will be able to help out here is an unusual "tongs", which is easy to manufacture from thick wire, two segments which are curved and connected as shown in the figure.
To improve fire holo-wands at the BBQ, grab the Sizzling potatoes from the fire, get soaked with paint or grease swab — in all such cases, the "tongs" will be indispensable.
Recommend to read
COUPE FOR TWO
When winter comes, the main individual off-road transport in much of our country be the snowmobiles. Unfortunately, they have a significant drawback in terms of comfort snowmobiles do...
THE DIODE IN THE BASEMENT
To extend the life of bulbs, plug in the power supply circuit is a semiconductor diode that lowers the voltage across the lamp. But where to place it! If this causes you difficulties,...