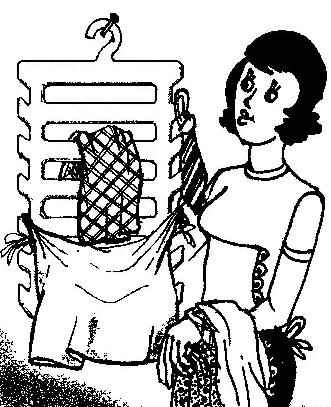 To save space in the closet and to facilitate the selection of clothes will serve as a multi-storey racking. It can be made from a sheet of thick plywood, Plexiglas or any other plate.
Choose the width based on the size of the folded skirt or pants. Cut the top hook, and then make horizontal cuts with a width of 2.5 — 3 cm, and the distance between them. All edges must be clean, without burrs.
Recommend to read
HANGER FOR BATH
I bought a plastic baby bath. Comfortable, beautiful, but where is her store! Decided it was better just to hang on the wall in the bathroom horizontally. This is enough for two...
SO AS NOT TO INTERFERE
How in the large or small basins, so they are all occupying the limited space of the bathroom. Three hook driven into the wall above the bath, will solve the problem — they will serve as...