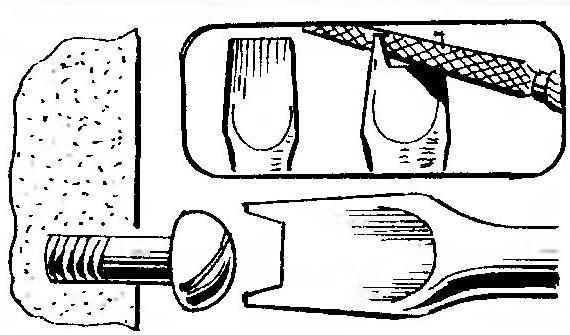 The main advantage of the Phillips screwdriver slotted in front of the centering tool and fastener, in which virtually eliminates the slipping of the sting with head even with a small misalignment of the tool. Almost the same effect can be achieved slotted screwdriver if the to change its tip as shown in the figure below: to whittle away the middle part, leaving the edges of the mustache. However, the screws and the countersunk screws I have yet dovorachivat standard screwdriver.
I. GLUKHOV, Saransk, Mordovia
Recommend to read
"SALAMANDER" CLASS FSR
Today we offer RC modelers a high-speed hydroplane races for long, designed and built by famous Hungarian athlete Istvan of Salim. "Salamander" — the so-called new microtiter — has a...
ON THE STOCKS — "MATRYOSHKA"
The name we gave zernoproduktovy Motorboats, which is one of the young employees of our design Bureau, Igor Kosachev, has offered to invest inside of the boat "Progress" with the big...