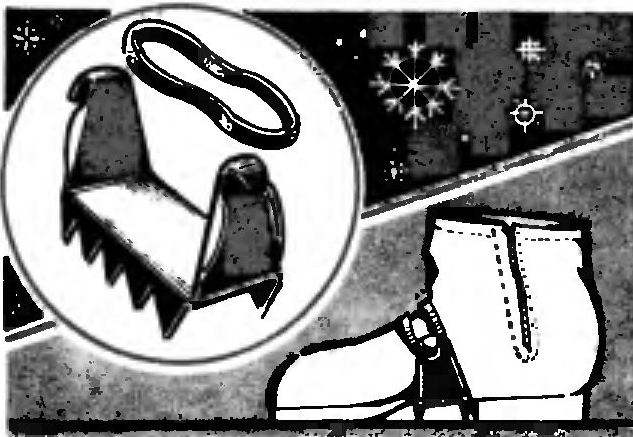 Nedostup was the title of the fixture for shoes for the period of ice reader of our magazine Privedentsev M. from the village of Crimson Kursk obasti. This kind of twisted grouser, steel strips with a thickness of about 1 mm as shown in the figure.
Mount ledostava to Shoe — with rubber ring, which is cut, for example, from the motorcycle the camera. "These icewalkers I use for the third year, informs an M. Privedentsev.— Walk in them you can quickly, conveniently and, most importantly, safely!"
Recommend to read
NEEDLE VS ICE
Using a wheelchair with a stick, faced with the problem of movement in ice. After several trials, it was decided to streamline the stick. In its bottom I drilled a series of blind holes...
AND DON'T NEED A CRANE
To lower or to raise from a well or wells cargo will allow here is a simple fixture. It consists of two stakes and relying on a steel rod with a diameter of at least 30 mm, with a...