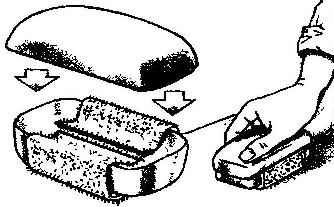 When processing the surface of any material, whether metal, plastic or wood — always a problem: how best to fix sandpaper to make it easy to work with.
In this case, can help out an ordinary soap box, type the road. Open the cover and wrapping the capacity of the sandpaper, fold the edges inside the soap dish and again cover: the skin will be fastened securely.
Recommend to read
THE TRACTOR FROM.
Still, as they say, don't have time to dry the printing ink in the magazine (see "M-K" № 2, 2009) report from Pereslavskogo district of the Yaroslavl region, as a new message — about the...
FLYING OVER THE WAVES
Hardly anyone would dispute that the twentieth century was for the engineers of gold in the literal and figurative sense. Discoveries and inventions made in those years will be used more...