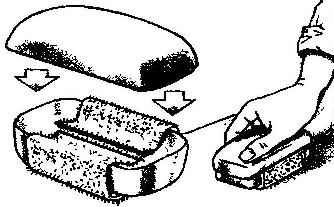 When processing the surface of any material, whether metal, plastic or wood — always a problem: how best to fix sandpaper to make it easy to work with.
In this case, can help out an ordinary soap box, type the road. Open the cover and wrapping the capacity of the sandpaper, fold the edges inside the soap dish and again cover: the skin will be fastened securely.
Recommend to read
The Yak-11 is a WINGED DESK
The main aircraft for training pilots in the great Patriotic war was the U-2 (Po-2) and produce the resource UTI-4. Double export fighter I-7B, Yak-9 and La-7UTI in flight schools were a...
TRICYCLE-AIR SUSPENSION
A prototype of the proposed tricycle car was made by me on the basis of the motorcycle "IZH" chamber with two leading wheels and a steering ski. It seemed that the desired result is...