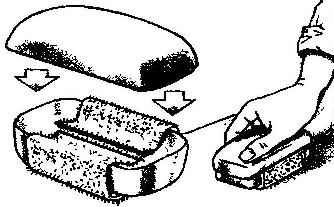 When processing the surface of any material, whether metal, plastic or wood — always a problem: how best to fix sandpaper to make it easy to work with.
In this case, can help out an ordinary soap box, type the road. Open the cover and wrapping the capacity of the sandpaper, fold the edges inside the soap dish and again cover: the skin will be fastened securely.
Recommend to read
FURNITURE INVISIBLE
To create the greatest comfort and spaciousness in the room, especially in small apartments, it is possible to produce just such a "set" (Fig. 1), which I called "UNIVERSAL". It's enough...
REZINOMOTORNAYA HELICOPTER
The model we offer you to make, made by rare scheme — two bearing rotor during rotation intersect. To build it is not very difficult — especially as the engine are well-known modelers...