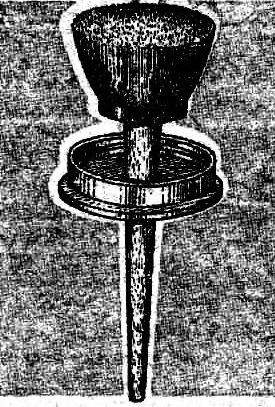 Work with a brush, converts the brush was stuck up, always with the risk to stain the flowing paint and the hand and hair and clothes. What methods did not come up with craftsmen, working to protect from drops of paint. That "M-K" not long ago, put the description of the brush with a kind of hilt is carved from a plastic bottle. In my experience, there's an even easier option: you can use a plastic cover for glass jars.
G. ILASCHUK, Chernivtsi
Recommend to read
TWIN-ENGINE ELECTROLET
Flying cord "pilotage" — a beautiful sight, equally exciting for the athletes and spectators. Accordingly, among modelers-korovikov the number of adherents of flying is very high. And it...
LACING ON THE BOOK
For many years engaged in bookbinding business. Stapling the sheet sets at the root, not sew them, string, inserting in the cuts the block with a depth of 3 to 4 mm sturdy thread in...