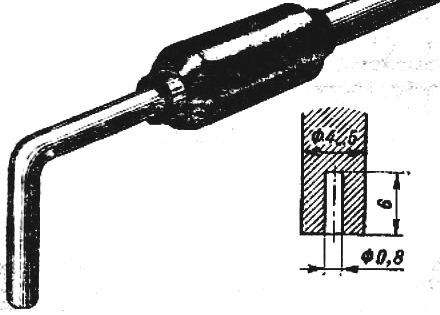 Soldering chips easy electric soldering iron with special tip (see figure). For this presleyana copper rod of diameter 4-5 mm drill hole Ø 0,8 mm at the depth of 6 mm. Drilling is necessary, be careful, as copper is a viscous material and sloppy work is easy to break the drill bit. Perform soldering using rosin varnish.
V. MOLOCHKOV, G. Novgorod
Recommend to read
NTTM — THE VILLAGE
THE CAR ROOF. For transportation of bulk cargo: flour for bakeries, cement on construction sites, fertilizers on the field — in recent years increasingly used cars with special...
FLYING WING "JUNIOR"
In our circle beginners-students who have gained initial skills training cord model engine MK-17, traditionally entrusted with the Assembly of models of air combat with the same...