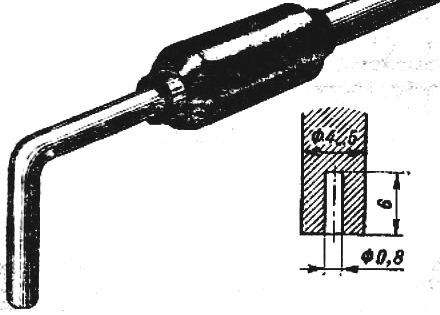 Soldering chips easy electric soldering iron with special tip (see figure). For this presleyana copper rod of diameter 4-5 mm drill hole Ø 0,8 mm at the depth of 6 mm. Drilling is necessary, be careful, as copper is a viscous material and sloppy work is easy to break the drill bit. Perform soldering using rosin varnish.
V. MOLOCHKOV, G. Novgorod
Recommend to read
INSTEAD OF STRINGS…
The traditional method of cutting Styrofoam with a heated nichrome filament is not always easy. The size of the holder of the strings, limit the size of the workpiece. Offer (in addition...
UNIVERSAL SOLDERING IRON
If you will need a soldering iron with a fine tip, navate on the rod of a powerful soldering iron a few turns of copper wire and bend its end perpendicular to the main sting. Sharpen it,...