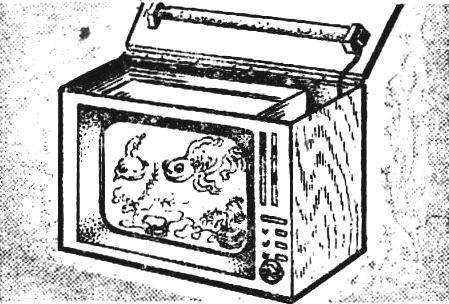 Do not throw away box from a failed TV he still will serve you as a "case" for the aquarium. Vnutrimyshechnogo space to accommodate not only the aquarium, but also the illuminator, compressor, heaters. Buttons, toggle switches can be placed on the front panel "TV" on it also cut vents. The top cover of the box is better hinged.
Recommend to read
HOME DESK
This is a small children's table with a sloping cover. Leaning back, the cover opens sufficiently spacious inner box; it can be divided by partitions into several compartments smaller....
POLISH… SOAP DISH
When processing the surface of any material, whether metal, plastic or wood — always a problem: how best to fix sandpaper to make it easy to work with. In this case, can help out an...