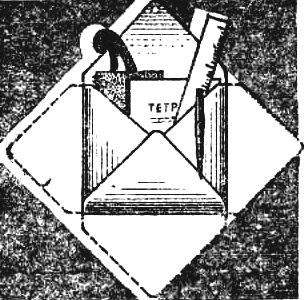 Its really easy to bend the tin, and even better — from a thin sheet of colored metal, but of course not for sending by post.
Make at the top, not a bent valve, the opening and hang the envelope on such stud and the wall next to the table, which prepare lessons. He will become a repository for leaves under drafts, notebooks, writing paper and drawing pencils.
Recommend to read
WITH A COMPASS THROUGH THE WALL
If the wall must be drilled through hole, and the length of the drill is not enough, then this operation can be performed in two stages: the one on the other side of the wall. Drill to...
PRINTOUT "BOOK"
Information stored in the computer, it is sometimes necessary to put on paper. The result typically looks like a stack of A4 sheets, stapled one side with a stapler. But easier would be...