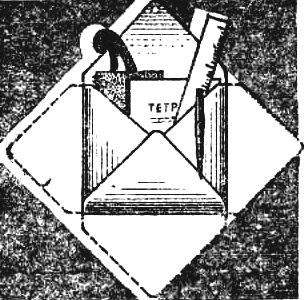 Its really easy to bend the tin, and even better — from a thin sheet of colored metal, but of course not for sending by post.
Make at the top, not a bent valve, the opening and hang the envelope on such stud and the wall next to the table, which prepare lessons. He will become a repository for leaves under drafts, notebooks, writing paper and drawing pencils.
Recommend to read
"TIT" IS IN YOUR HANDS
"Suli's not pie in the sky, give it to the bird in hand..." So says an old Russian proverb. Don't know whether it was guided by the famous Lithuanian designer Bronis Oszkinis, creating...
A LOCOMOTIVE WITHOUT STEAM AND SMOKE
The first domestic locomotive ВЛ19. In the late 1920-ies in our country began the so-called industrialization, whose main objective was to lift the industry to the level of the leading...