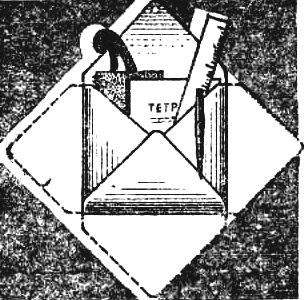 Its really easy to bend the tin, and even better — from a thin sheet of colored metal, but of course not for sending by post.
Make at the top, not a bent valve, the opening and hang the envelope on such stud and the wall next to the table, which prepare lessons. He will become a repository for leaves under drafts, notebooks, writing paper and drawing pencils.
Recommend to read
HIKING "THE KID"
Radio, about which we tell, collected under the scheme direct gain works in long ranges (2000 — 740 m or 150 — 400 kHz) and medium (200 — 550 m or 520 — 1600 kHz) waves. Despite its...
MINI CAR FOR KIDS
The first little micro-car "mouse" I built for my kids. As far as he was able, the readers of "Modeller-designer" can tell, after reading his description and drawings, published in...