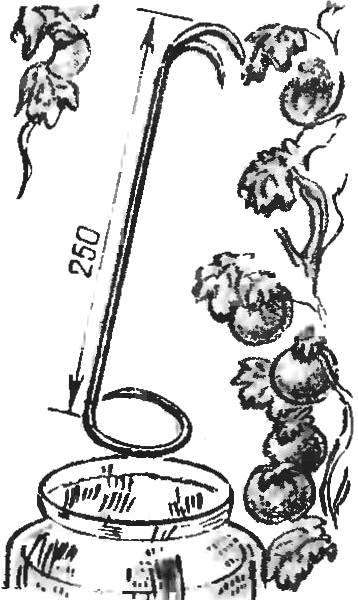 Tomatoes and cucumbers for pickling or marinade is usually rolled into a three-liter jar. I'm gonna put it just, but then how to get it? The cucumbers are slipping, and red bulk tomatoes just about ready to burst. Cucumbers I have my device out, as burbot from the hole, catching "the hook"; and under the tomatoes carefully into the ring and raise to the top. "Gaff" made from steel wire.
A. MUDROV, p. Pervomaisk
Recommend to read
OPPRESSION WITHOUT OPPRESSION
Whatever containers for homemade pickles — from pans or buckets to the barrel after filling in the experienced owner necessarily puts on top of the circle, and his oppression: a stone or...
PYRAMID FOR CUCUMBERS
It is believed that when the whip cucumber shoots have the ability to curl up like vines, the harvest increased, and deprived of contact with the ground the cucumbers are better...