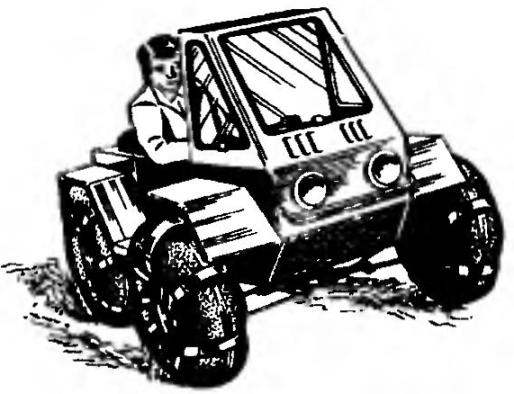 Pneumatic large diameter low pressure tyres are good drivers of all-terrain vehicles in even the harshest of road conditions. But, working with modern highspeed engines, they require a significant decrease in angular velocity by means of transmission and, consequently, increasing the number of stages of the power transmission, its weight and dimensions. Every Amateur designer in his own way links the transmission. Some are even from multiple gearboxes, linking them together with chain transmission that makes power transmission and cumbersome and unreliable in operation.
Therefore a compact gearbox with large gear ratio is not only important but essential transmission mechanism of the pneumatic.
The journal "modelist-Konstruktor" repeatedly returned to the drives (see, for example, No. 11 of'89), but, in my opinion, the published assemblies do not fully ensure decreasing the number of revolutions acceptable for the tires.
Offer technical project, giving an idea about the device I have developed a small-size reversible two-stage gearbox, designed to work even with a motorcycle engine. Basic data for the selection of the gear ratios shown in table 1. A list of standard details in table 2.