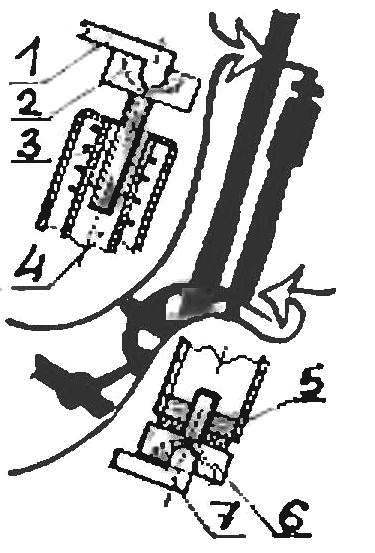 I am fond of Cycling. Repeatedly convinced of the unreliability of fastening of the pump on the frame. Making a simple revision, I solved this problem once and for all. Perhaps my experience will be useful to other readers.
Rigid mounting of the pump is provided by two special screws, brass vypechennye of logs with a diameter of 16 mm and a sleeve with internal thread MB, is pressed into the handle butt. Turning the screws on both sides and slightly turn the handle, install the pump between the stops. If after that one of the screws slightly to twist out of the hull. the guarantee to avoid the loss of pump — one hundred percent.
Specific size of the screws depend on the distance between the stops on your bike.
Rigid mounting of the pump:
1
-emphasis upper, 2
-screw top, 3
– bushing, 4
— pump, 5
— rubber gasket, 6
bolt bottom 7
— emphasis the lower.
Recommend to read
ARCH TO ARC – READY GREENHOUSE
Arched design with all other conditions being equal, will always be stronger, safer and cheaper structures of other types — especially when the arc itself consists of rods, working only...
ON THE WATER – ELEKTRO
Long gone are the days when the construction of the RC was the prerogative of only experienced, cool modelers. Today, even the newbies that come to join the circle, to the question of...