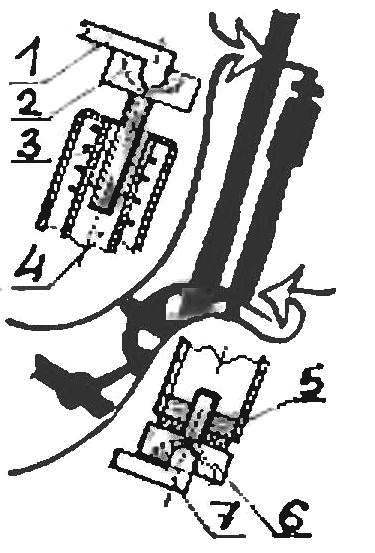 I am fond of Cycling. Repeatedly convinced of the unreliability of fastening of the pump on the frame. Making a simple revision, I solved this problem once and for all. Perhaps my experience will be useful to other readers.
Rigid mounting of the pump is provided by two special screws, brass vypechennye of logs with a diameter of 16 mm and a sleeve with internal thread MB, is pressed into the handle butt. Turning the screws on both sides and slightly turn the handle, install the pump between the stops. If after that one of the screws slightly to twist out of the hull. the guarantee to avoid the loss of pump — one hundred percent.
Specific size of the screws depend on the distance between the stops on your bike.
Rigid mounting of the pump:
1
-emphasis upper, 2
-screw top, 3
– bushing, 4
— pump, 5
— rubber gasket, 6
bolt bottom 7
— emphasis the lower.
Recommend to read
UNSINKABLE FLOAT
Often hollow plastic float in the toilet tank, prohodivshiy, fills with water and stops functioning. But do not rush to replace it with a new one. Remove the float from the lever, cut...
LITTLE POWERHOUSE
A variety of roller chain, like a Bicycle or a motorcycle, are used on many machines, including most agricultural units. With their Assembly during the repair of machines of great...