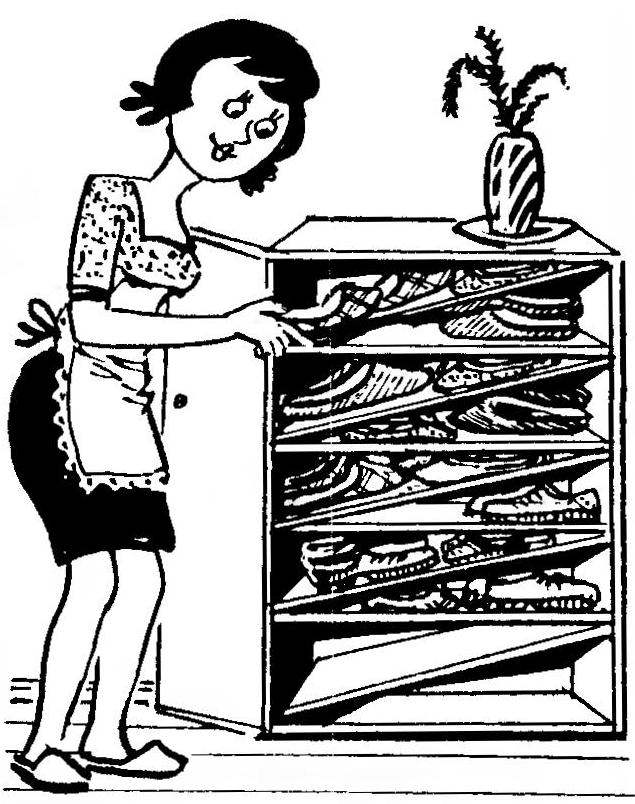 In any bedside table somehow is always not enough space, and galoshes-ence in the hallway is no exception. It is necessary to store both shoes and boots and Slippers. But to cram it all in two layers of uncomfortable and unhygienic.
Offer a simple way to double the capacity kaloshnitsy. It is necessary, measure the diagonal space between shelves, cut out equal plywood insert instead of the usual shelves get a triangular two-storey compartment, which will accommodate twice the shoes, as if there were two tables in one.
A. FUNDUKIAN, Kharkov
Recommend to read
OF THE BOXES — WARDROBE
Now self-respecting Shoe company pack their products in such a beautiful and, most importantly, strong boxes, which brought a purchase from a shop, makes you wonder what would it eat?...
ANTIMASONRY INSOLES
In the proposed padded insoles for shoes is nothing new, but... To the insole not "went" the shoes, cut they have a few larger native insoles with the edge at an angle of approximately...