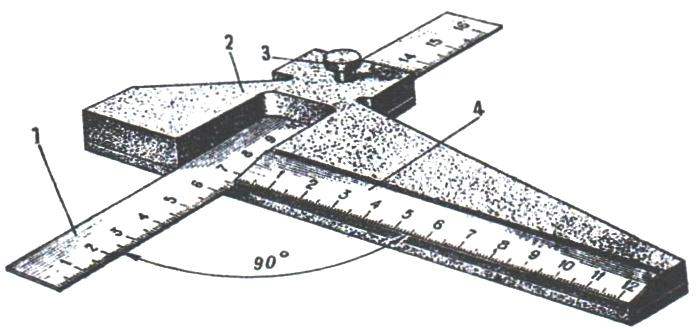 Gennady Krivopalov from Kuibyshev offers to make a clamp for the metal line. This device essentially has a new tool, you can use a square to lay parts flat and control immediately in two sizes, one of which is movable into the line – fixed clamping screw. When using this tool the accuracy of the measurements compared to the normal line increases to 0.3 mm. the two halves of a latch it is better to make from durable plastic – the metal is heavier. In the upper half, where there is a line, you need to saw through to her groove; the shank drill the hole and cut it the thread for the clamping screw. On the sloping faces should stick the second the same line.
Device tool:
1 — fitting line, 2 — latch, 3 — clamping screw, 4 — glued to the ruler.
Recommend to read
BOOKCASE-RETRO
When a small room for a student or a student does not establish a standard store-bought furniture because of its size, the solution may be compact and simple construction, proposed by...
TRIANGULAR STOOL
In the apartments of mass developments of the past years of food is very petite in every square decimeter. In these areas put only the furniture, without which one cannot do. And if the...