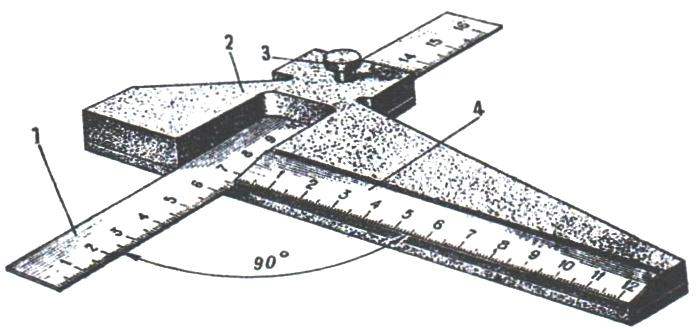 Gennady Krivopalov from Kuibyshev offers to make a clamp for the metal line. This device essentially has a new tool, you can use a square to lay parts flat and control immediately in two sizes, one of which is movable into the line – fixed clamping screw. When using this tool the accuracy of the measurements compared to the normal line increases to 0.3 mm. the two halves of a latch it is better to make from durable plastic – the metal is heavier. In the upper half, where there is a line, you need to saw through to her groove; the shank drill the hole and cut it the thread for the clamping screw. On the sloping faces should stick the second the same line.
Device tool:
1 — fitting line, 2 — latch, 3 — clamping screw, 4 — glued to the ruler.
Recommend to read
TRAP FOR BUTTONS
I think that to get firmly entrenched in the Board Kuhlman button convenient this device. The sharp edge of a metal Cup, you can easily pick up a hat of any button. A slight twist — and...
TABLE ON TWO LEGS
it is Known: if the furniture is on legs, she's usually four, at least three. However, some items may be one Central pillar. But two is not found.   However — maybe two. For...