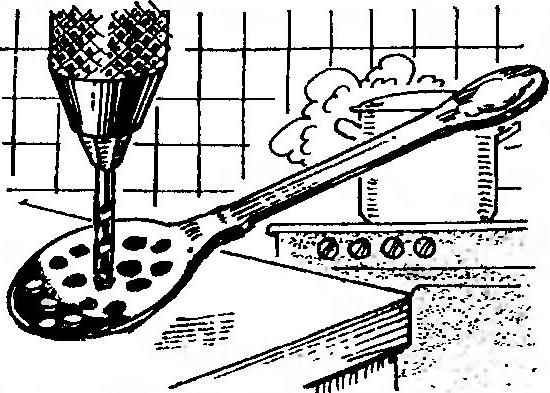 A good housewife in addition to mandatory colander in your kitchen Arsenal is still a spoon with holes, which helps when you need from pans or cans, for example, to extract something, not capturing the liquid. If such there is no spoon — there will a good host, taking unnecessary aluminum spoon and nasverliv it to a number of small holes.
V. GOLOVASHIN, Rybnoe, Ryazan region.
Recommend to read
THE TECHNICAL PEN FROM THE "BALL"
One time I urgently needed to draw a charge, and at hand, no needle to scratch or ruling pen, although the lacquer was. Then decided to fill them inscribed with the rod of a ballpoint...
MODELIST-KONSTRUKTOR 2003-02
IN THE ROOM: Public KB: M. Train. Motor trolley (2); In Pronin. Two in one (5). Small-scale mechanization: V. Dyakov. Reliable Malyutka (8); V. Sinev. Bed of... tyre (10); ...