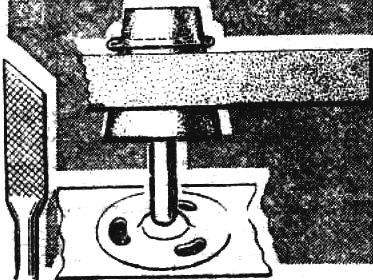 This, of course, is not about combining the functions of the electrophone and sharpening device, but only about using the motor from an old player. With its help, if necessary, you can improvise a workable knife. To do this, simply push on the shaft cone rubber stopper, and it is to put a small sharpening stone, "sasportas" two dressmaker pins. The motor is secured by a clamp. This winepress is possible not only to restore the cutting edges of the tools, but and make a new one, for example, a chisel or microstates from broken needle files.
Recommend to read
TWO CHAMFER — TIME
In the processing of flat pieces cut from sheet materials: soft metal, plastic, plexiglass — sharp edges it is desirable to remove or to blunt (to make the chamfer). The simplest tool...
BELTS GLOVES FROM
An open belt is rubber ring at the tape recorder or a player — it happens not so often, but because surprised. However, a good housewife can always find an old rubber glove. Select the...