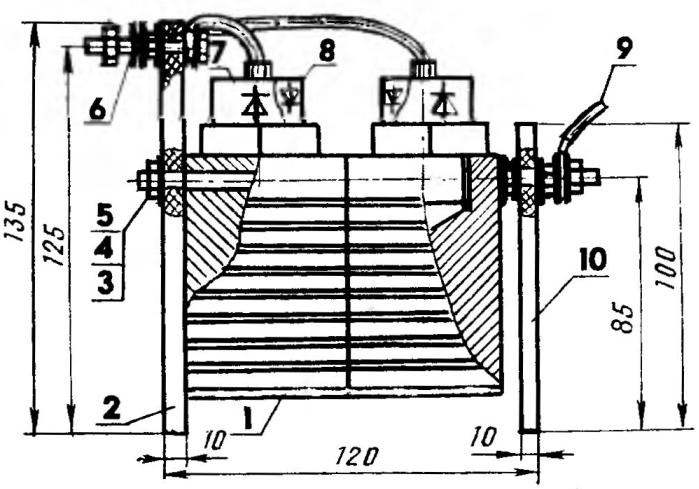 Thank you so much, friend magazine, for the development of welding transformers. Inspired by the publications took a chance and made themselves compact, but quite powerful "svarochnik" based on "on the margins" of the burnt stator from a induction motor. Now that dream is about as good design of the rectifier… help me out, dear journal. On you one hope!
L. Bornovolokov,
Kemerovo
In an editorial post, this is not the only request for material of rectifiers for small-sized welding transformers. Hence, such development is really needed rather wide circle of readers. They addressed the following material.
Designed and improved homemade welding machines on the basis of the toroidal magnetic circuit is engaged not the first year. But when the editors of such a respected among the fans of DIY magazine as "modelist-Konstruktor", offered to tell about the most successful developments, several podrasteryal. And discriminating readers have ventured to submit only two compact welding rectifier.
The first is combined with a toroidal transformer and fan-cooled. Directly the rectifier bridge, assembled on the diodes DL-132-80-10 installed in the center of the Torah in brackets-the radiators from pieces of aluminum angle. Thermal conditions for power semiconductor valves is the most favorable. After all, each of the diodes from almost all sides by air at the kom, which are sucked from the bottom (from under the stands) and intensively chased by a fan through the "mini wind tunnel" — the inner funnel (window) Torah.