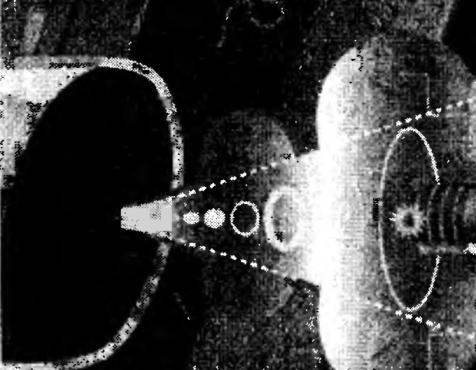 Most machines of lighting effects (AES), including homemade design for the decoration of discos, Christmas and other holidays (see "modelist-Konstruktor" No. 4 and 5 in 1995), can at best give only a reprogrammable combinations of light. Even with all the variety of used circuit design, these devices usually can not at least in a time interval arbitrarily change the order of playable effects and patterns. I offered as my development devoid of these shortcomings.
The first of these structures (Fig.1) is performed on the basis of three typical circuits. But even she is able to work in the "chaos" with the arbitrary change of the order and the number (0 to 5) turn on lamps. All in all, this ASE provides 32 combinations of light and repetition period of one of them variable. When a certain speed of switching of lamps you can get the effect "running fire" in a forward or backward direction or other options ordered, "move the world".
The second design is the ASE has eight channels. Performed using eight chips (Fig.1), it can demonstrate the cycle of "running fire" in forward and reverse direction. The first is 8-times the displacement "light plot" generated by one of the eight lamps (mode "chaos single"). The second term of the cycle also consists of 8 one-time "Pro-begonia fire." But this creates the effect of random inclusion of several lamps of eight.
As in the first design of ASE, there is also absolutely unpredictable repetition of a particular combination. And the transition from one effect to another within the cycle automatically. And "running fire" always starts with a different light first flashes one room category which is older than the last, shining in the mode of "chaos single".
Speed control switch of lamps of both machines manually. But it can be "linked" with the rhythm of percussion instruments in the musical accompaniment, adding ASE to the special attachment (Fig.2).
Since the generators Г1и G2, and the shaper short pulses (FCI), the designs are the same, so far and they are depicted in the expanded view of only the circuit diagram of the first ASE and the rest of the illustrations — conditionally, as functional blocks, with explanatory inscriptions. Simplistically, in the form of numbered boxes show all machines and the control circuit (SU) light devices. They can also be the same, made by the most appropriate of standard variants (Fig.3).