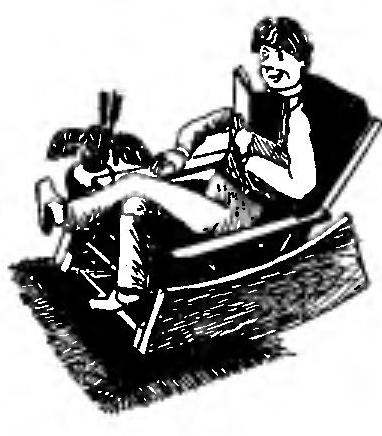 There is something in the home is very cozy in the structure itself "grandmother" a rocking chair: it is so nice to sit back and comfortably deflected. sheltered warm blanket, read a book or take a nap. However, ordinary chair as prompts Hungarian magazine "Ezermeshter", you can give virtually the same properties. To do this, just make a simple removable nozzle at the right time is put on the chair legs, like galoshes in bad weather.
The design of The nozzle depends on the type of chair that is what his feet: flat pieces of wood or tubular metal. However, the main part of it, in principle, the same.
This support consists of two curved parts: the actual support and attached to her cheeks. Both parts are cut out of the board by a single radius and provide the ability to swing the chair.
On the pillars are formed lodgements for chair legs. If the last tubular, the cradles are loops of the curved metal strip thickness of 2 mm.
To support they are attached by bolts or screws in furniture with glue. Inserted in their chair legs rest on the cheeks.
For flat wooden legs lodgements components. They are assembled from the bars, fixed on both sides of each leg, and the locking elements, plates (for each foot) or more supports (for each pair of legs). Naturally, the bars and the cheeks of the same thickness as the legs of the chair.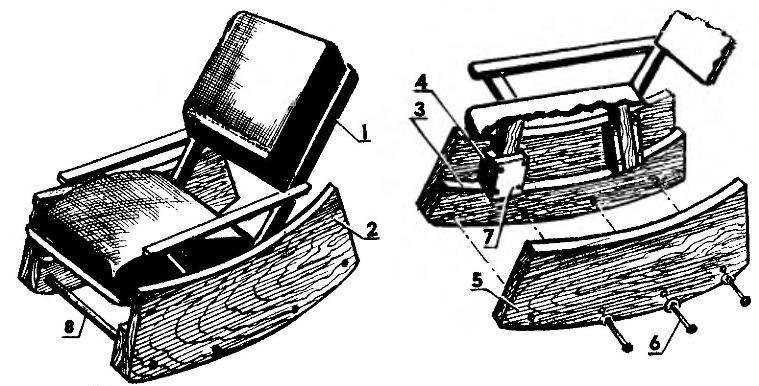 Rocking from an ordinary wooden chair:
1 – chair; 2 – a support (2 pcs.); 3 – cheek (2 pcs.); 4 – limiting bar (8 pcs.); 5 – additional support (2 pcs.); 6 – Furniture bolt; 7 – a closing plate (4 pcs.); 8 – step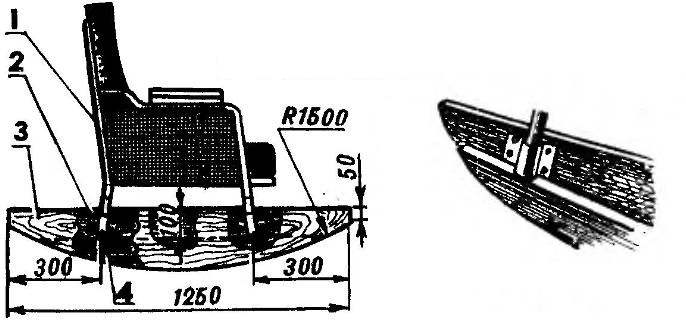 Rocking chairs with metal legs:
1 – chair; 2 – loop-cradle (4 pcs.); 3 – a support (2 pcs.); 4 – cheek (2 pcs.)
These approximate dimensions below, as they depend on the size of the particular seat. However, experience suggests that the length of the legs should be approximately 600 mm longer than the distance between the front and rear legs to provide the necessary stability of the chair during the swing.
External plane poles can be painted with enamel paints dark tones; support edges thus do not stain, but carefully polished so as not to spoil the floor.
Recommend to read
BASIN ON SLIDER
A simple plastic basin is considered generally not very convenient for storage hanging on the wall it spoils the view tucked away in the closet or on the shelf — takes up a lot of useful...
WARDROBE — HARVESTER
Modern small apartments have to "measure seven times" before it to arrange the furniture. In the nursery the more. One solution is to use furniture combines, for example, such as in the...