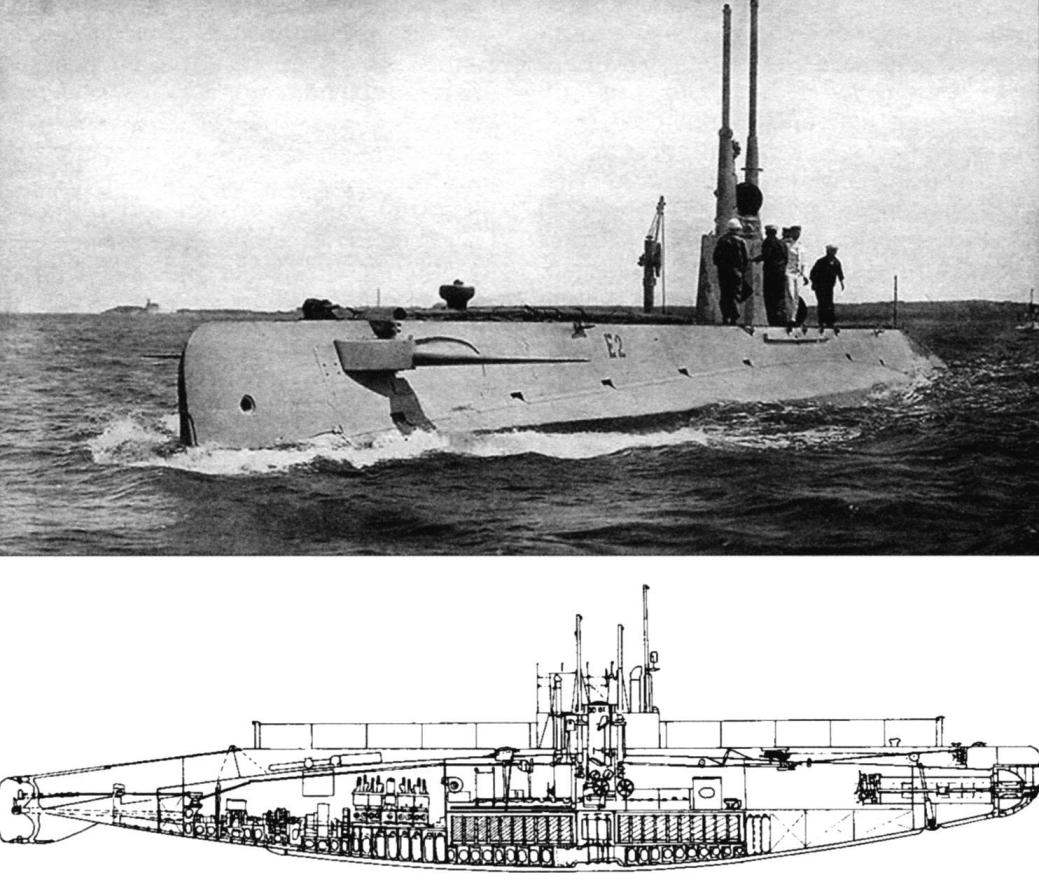 Nearly five years, the ousting of John Holland, a private company in 1904 came to a natural end. Amateur inventor had left the firm and his place was taken by young and energetic professional Speer. However, the impact of such a significant figure at the successor remained in force. The first series of submarines SPIRA, type "B" was the direct development of the "hedgerow" and the actual "Hollands". And in the creation of the project participate directly to the Patriarch of the underwater shipbuilding. Fortunately, the task before the designers enough.
As one of the main directions of development of submarines could easily choose and move along the French path Maxim Labefa. We are talking about the transformation of the "true submarine" submarines (which were, in particular, all boats Holland) to "diving". By the time engineers are already well aware that the available level of technology made it possible to achieve much-needed cruising range only due to transitions in the surface position. A large range firmly tied to seaworthiness: hardly anyone wanted a boat able to go a few hundred miles, but only in complete calm. Accordingly, it was necessary to make a decisive step towards new housing forms and new technical solutions.
But to overcome this "gap" in one jump is hardly possible. Speer chose a cautious movement. Boat type "b" (they are the same type "Viper", which means "the Viper" is a good name for a submarine "snake") essentially differed little from hollandsch "ashek". The most significant was the emergence of the second torpedo tube: single tube "hedgerow" even in those days seemed to lack. Because the slightest malfunction of a single unit completely deprived the submarine of the ability to conduct combat operations. "Gadyukino tribe" mounted two torpedo tubes, side by side. While not without strange engineering quirks: both were closed by a single cover, rotating around a Central axis so that both holes could either be closed or open. The need for a hermetically sealed lid is clear: on the one hand, the constant presence of the torpedo in the sea water affects it very negatively, on the other, in "flooded" the device difficult, if not impossible, to prepare "fish" to the shot, and finally suffered speed because of the disadvantages of a flow hole of the bow with water. In General, without a lid on trouble. But it is not necessary to do it both on a single machine, since in this case, water was filled in both tubes. Had to release both deadly projectile, either simultaneously or with a relatively small gap to drain from the unused pipe was impossible. Strange technical solution, quite beautiful from the point of view of pure mechanics, but very inconvenient in battle. But to get rid of it failed somehow at once: the total cover on the next series, "C".