Holes in wood, plastic or duralumin parts are usually done in two steps: first, through drilling, and then chamfering with the core drill or drill bits of large diameter. I suggest a simple device that allows you to combine these operations.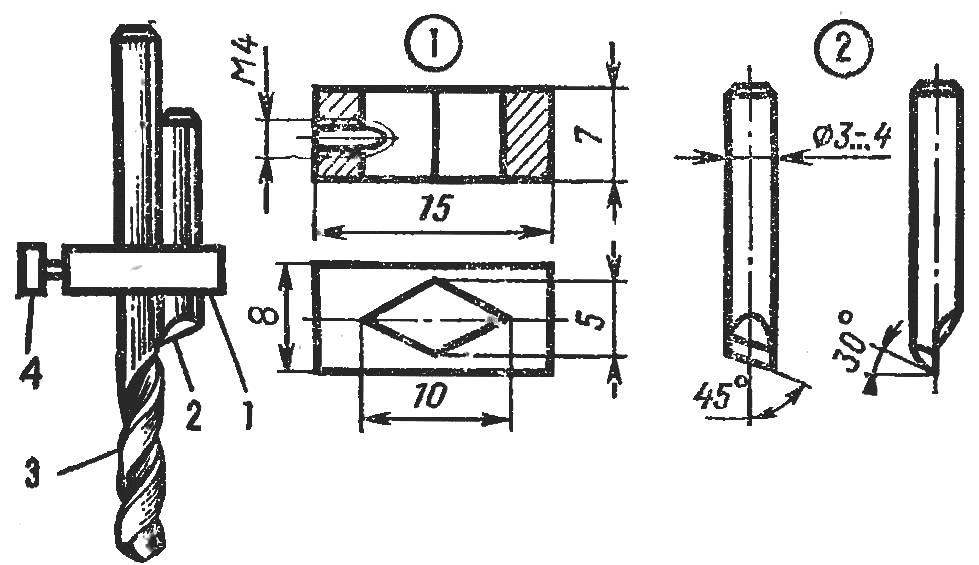 A device for simultaneously drilling with chamfer:
1 — mandrel, steel 40H, 2 — cutter, 3— check, 4 — fixing screw M4
A small chisel made from a piece of drill or tap is fixed on the working tool by means of a spindle with a diamond-shaped hole. After the drill bit deepens the distance specified by the position of the cutter, the edge is removed chamfer.
And, ALIMOV, Moscow
Recommend to read
SMOOTH SWITCH
Usually automatic device switch on and off the Christmas tree lights in leaps and bounds, without changing the brightness. But the electronic switch scheme is presented in figure — does...
"QUANTUM" ARE YOU READY
The plane "quantum" is a single, freely carrying an all-metal monoplane with a low wing, having a trapezoidal shape in plan, with the influx of the leading edge at the side of the...