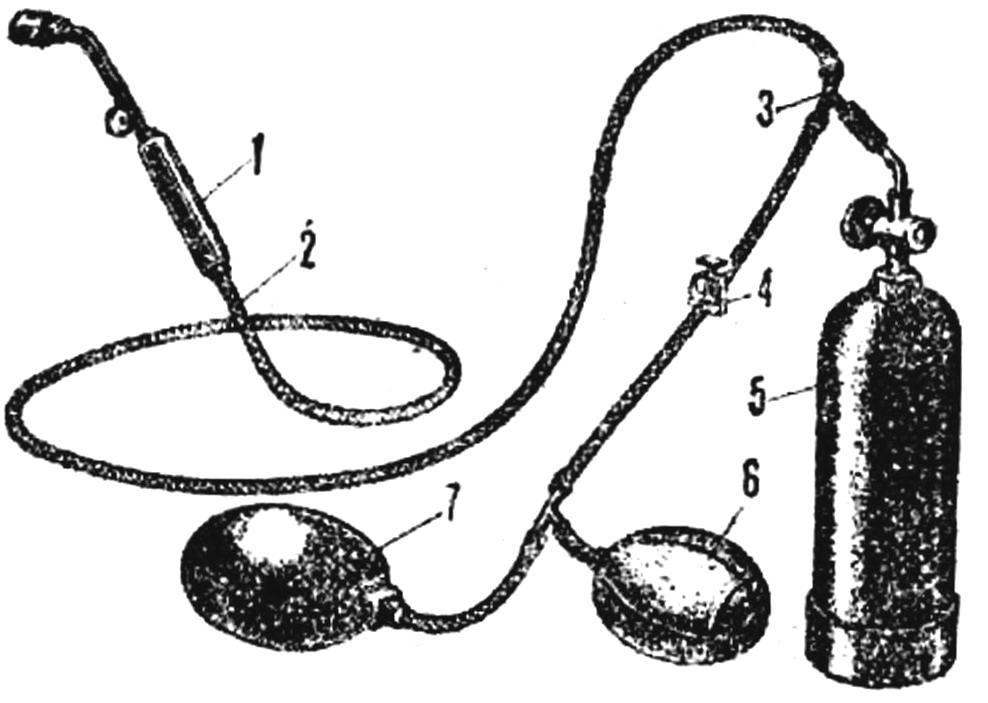 Soldering metal tin solder — one of the most common but, unfortunately, the connection is not too strong. A more reliable seal provide so-called "hard" solders — silver-copper or copper-zinc. Most often, when brazing use a gasoline blowtorch. However, they should be treated skillfully: the lamp is unsafe in the fire relation, smokes when running, the flame is poorly adjusted.
It is much easier to work with propanebutane burner. Connected the hose to the tank from a portable gas stove, it is a great heater. The invaluable advantages of this burner — always ready to work, quick heating of the parts to the melting temperature of the solder.
External view of the device shown in figure 1. For this, you will need a copper or brass tube with an outer diameter of 12,8 and 6 mm (wall thickness — 1 mm). The burner tip machined "stainless steel" or from any other heat-resistant steel and pressed on the inlet pipe. Inside is another Central tube with soldered to it a collar with a nozzle — orifice Ø
1 mm.
In the cavity of the handpiece is a grid — steel disc with twelve holes Ø 1 mm-Central hole Ø 4 mm under the nozzle.
The valve is a screw with M4 thread, cylindrical head which has an outer diameter of 12-15 mm. to Use it would on its outer (cylindrical) surface to bear a triangular needle file a shallow risks. Next to the lead pipe solder brazing tide, which is drilled hole Ø 3.2 mm for thread M4, passing through the inlet and through the feed tube. When tapping keep on mind that to go deeper with a tap in the feed tube should not be, or you but will provide complete overlap of the holes in it wrapped with the M4 screw.