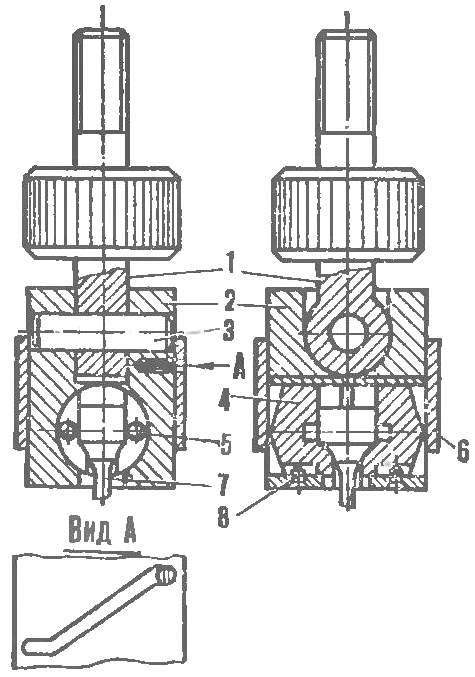 One of the major examination quality, which is a metal or alloy before you can become a responsible part of modern technology, the test of a test sample in tension. However, to determine what load it is able to withstand, you need to mount it in the testing machine. Existing methods or time-consuming, or complex. Innovators V. Kropotin and O. Ermolaev presented at the exhibition of IR-77 is a simple device and yet a very efficient clip (see Fig.), firmly gripping and holding the "pencil" test material.
The clamp consists of a cylindrical housing-glass, with axle connected to the traction test
machine. At the bottom of the glass has moveable ear, repeating the configuration of the head of the test-piece. The release liners for the passage of the head is provided by a spring and is limited to the retaining bolts preventing them from falling out of the housing. In the working position, the fixed ear tension ring, existing outside of the case and down when you rotate the shift along the guide key.
The scheme of the clip:
1 — pull testing machines, 2 — the clamp body, 3 — connecting axle, a 4 — liner, 5 — spring, 6 — tightening ring, 7 — the test sample, 8 — locking screw.
This device reduces installation time and the change of the test sample, provides reliability of its clip while conducting the examination in tension and the possibility of self-centering at the time of application of the load.
Recommend to read
BACK TO THE JIGSAW…
This device allows you to consistently perform those operations which are performed simultaneously jigsaws, tension and clamp the blade. It is especially difficult to learn this kids —...
DRILL WITH RADIATOR
Modern engineering makes high demands on the materials, and they, in turn, to the machining tools. Not by chance all the exhibitions NTTM necessarily demonstrates the new development of...