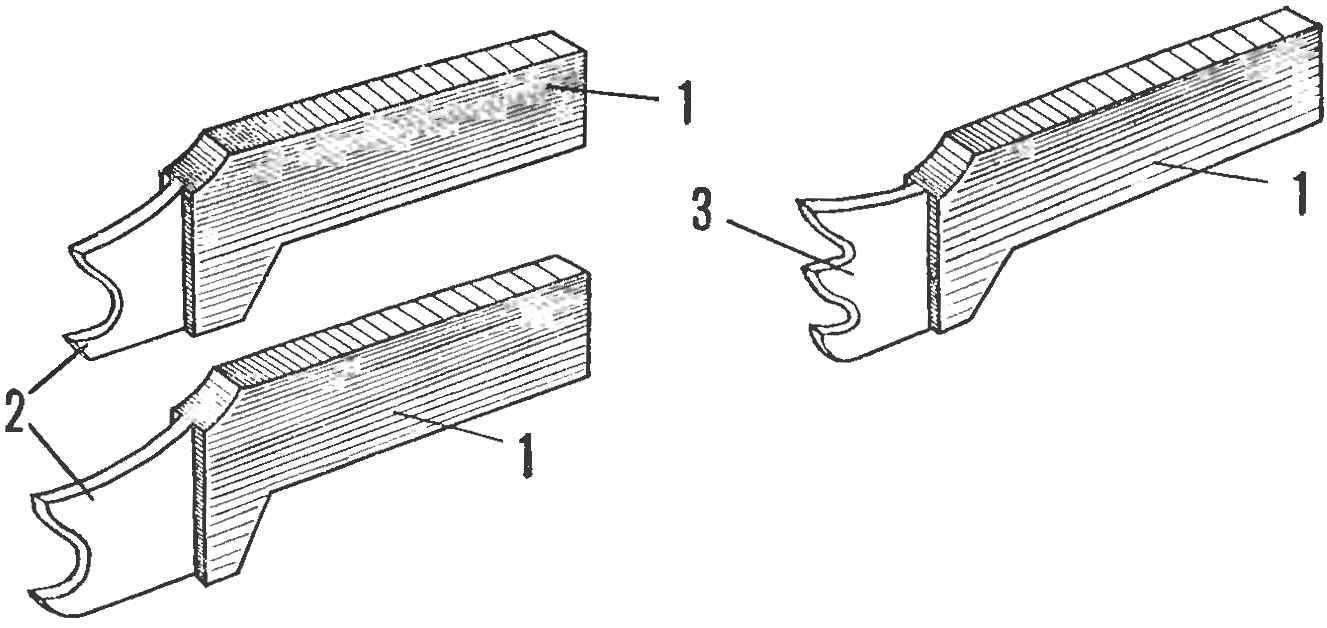 Completely unexpected, very witty use of found G. Ortynski served drank Geller. As is known, they consist of two – and Treasury segments. Each segment, according to the innovator, can be used as a cutting tool — they are made of excellent steel.
These cutting tools are quite complex to manufacture and expensive. For segments well enough to make special tool holders and the tool is ready (see figure). They can be successfully treated exterior keyed manholes, cut billets of steel processing on a planer parts made of Micarta and the PCB. The "blade" cutters there is even an advantage: with the deepening of the cutter in the metal is dramatically improved melt chips, as the first blade is already the second.
The cutters saws:
1 — holders of the cutters, 2 — dvuhmestnye segments-cutters, 3 — trehizbinsky
The effectiveness of the proposal G. Ordynskogo shows this figure: it gives the introduction more than one thousand rubles of annual savings.
Recommend to read
"SCHOOL" CUTTER
Rationalization proposal Lyubertsy student of secondary school № 42 of Yuri Furmanov. How to ensure all novice turners cutters? Almost every school workshop this problem exists. The HSS...
DRILL WITH RADIATOR
Modern engineering makes high demands on the materials, and they, in turn, to the machining tools. Not by chance all the exhibitions NTTM necessarily demonstrates the new development of...